Wondering where to stay near Bryce Canyon? Here's the inside scoop!
Bryce Canyon is definitely one of the best places to travel in Utah for nature lovers. We adored the nature of Zion National Park in particular the cool walks like the Narrows so we weren't sure how Bryce Canyon would compare. Long story short – we loved it. It is for sure one of the best National Parks we have ever visited in the USA.
There are quite a few places you could stay near Bryce Canyon so it can be quite an overwhelming decision, deciding where to stay.
If you want a quick answer, the 3 towns that you will want to look are Bryce Canyon City (right at the entrance), Tropic (about 10 minutes drive from the park entrance, and Panguitch (about 25 minutes drive from the park entrance).
In this article, we will breakdown the very best lodging in the National Park and nearby, we will discuss the pros and cons of each so you can make an informed decision as to where to stay.
Quick List:
Bryce Canyon City – located at the park entrance
We would recommend staying in Bryce Canyon City which is located right at the entrance of the National Park. There are only a few hotels located here but they are as a general rule quite affordable, clean and comfortable.
The best place to stay in Bryce Canyon City is the Best Western Plus. It is the most "luxury" option at the entrance of the National Park. It is clean and comfortable and includes buffet breakfast in the rate. The breakfast is a pretty decent quality and we overheard some Americans saying "now this is a really good breakfast!" It includes all the American favoroites like a waffle machine, biscuits and gravy, eggs and bacon, pancakes, cereal and oats.
Some of the hotels in the area have pretty scary ratings but the Best Western Plus always consistently rates well.
We stayed here and we really enjoyed it. Staying in Bryce City proved a very worthwhile decision. From April to October there is a free shuttle that services the park which can be very hardy because there is limited parking at each spot. The free shuttle makes a stop at the Best Western Plus which is very convenient.
We liked that there is a laundry on premises as your clothes get quite dirty after hiking Bryce Canyon. There is also a really nice outdoor jacuzzi and firepit which is perfect for the colder months in the National Park.
The hotel does not provide a daily cleaning service. We really liked this aspect as we don't really like getting cleaning in to help prevent us getting COVID-19 while traveling. You may or not like this aspect.
The hotel is also right next door to one of the best places to eat in the area – Ebenezer's Barn and Country Show. It is also directly next to the summer Rodeo which is on every Wednesday and Saturday in the warmer months. We visited in November and were very disappointed that both Ebenezers and the Rodeo were both already closed for the season. Although I suppose it is always more of an excuse to return in summer!
Book your stay here.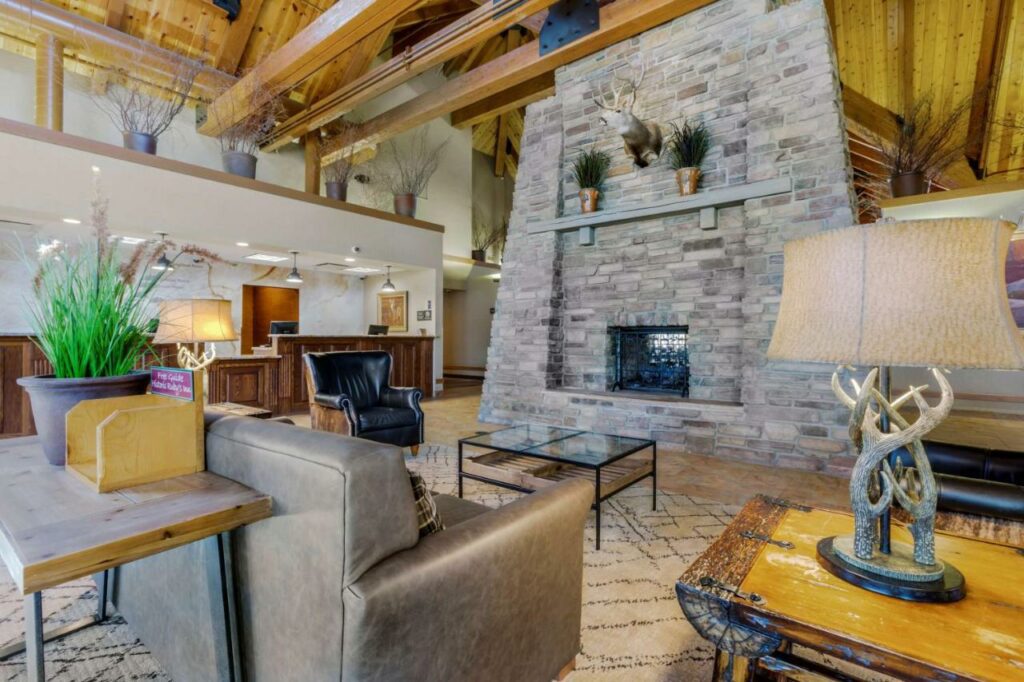 We were a little confused at first as both Ruby's and Best Western Plus were called "Best Western". There are in fact 2 different Best Westerns in town. Rubys is probably the more popular and cheaper of the two.
The nice thing about staying at Ruby's Inn is that you are really staying in the very heart of Bryce Canyon City and everything you could want is directly at your disposal. Rubys is connected to the Ruby's General Store where you can buy food as well as souvenirs of your time in Bryce Canyon. The general store is quite interesting so it is worth checking out even if you decide not to stay at Rubys.
It also has 2 restaurants directed connected to the hotel – Cowboy's Buffet and Steak Room and the Canyon Diner which is nice because it is super easy to have dinner out after a long day of hiking.
There is also an interesting Western Arts Gallery in Ruby's main lodge which sells Native American pottery, weaving, jewellery and fine collectables. Aside from this there is also a post office, a small liquor store, a film processing centre and a place to get old Western photos at Rubys. So yep, Ruby's pretty much has it all.
We went to Ruby's quite a few times during our stay in Bryce Canyon City even though we weren't staying there to rent snow spikes for our shoes and hiking poles as we didn't realise but in November these are really necessary.
Despite all these pros, Rubys is not rated as well as the Best Western Plus mainly due to the older rooms and less quality breakfast.
Book your stay here.

The third place you can stay in Bryce Canyon city is Bryce Canyon Resort which is right next door to the the Best Western Plus.
The hotel is in just as good of a location than the previous 2 hotels however, it is the worst quality of the 3. For this reason, the rates tend to be cheaper as it is a much older style resort with less facilities available to guests.
In saying this, due to the amazing location, we wouldn't rule out staying here if you can get a really good rate or the previous 2 hotels are booked out.
Breakfast is included in the rate and despite only receiving a score of 7/10 most recent guests think the hotel was clean and comfortable.
One pro I would personally give the motel is that you can drive up to your room if you are staying on the lower floor. This is a big plus if you are coming with a bit of luggage.
Book your stay here.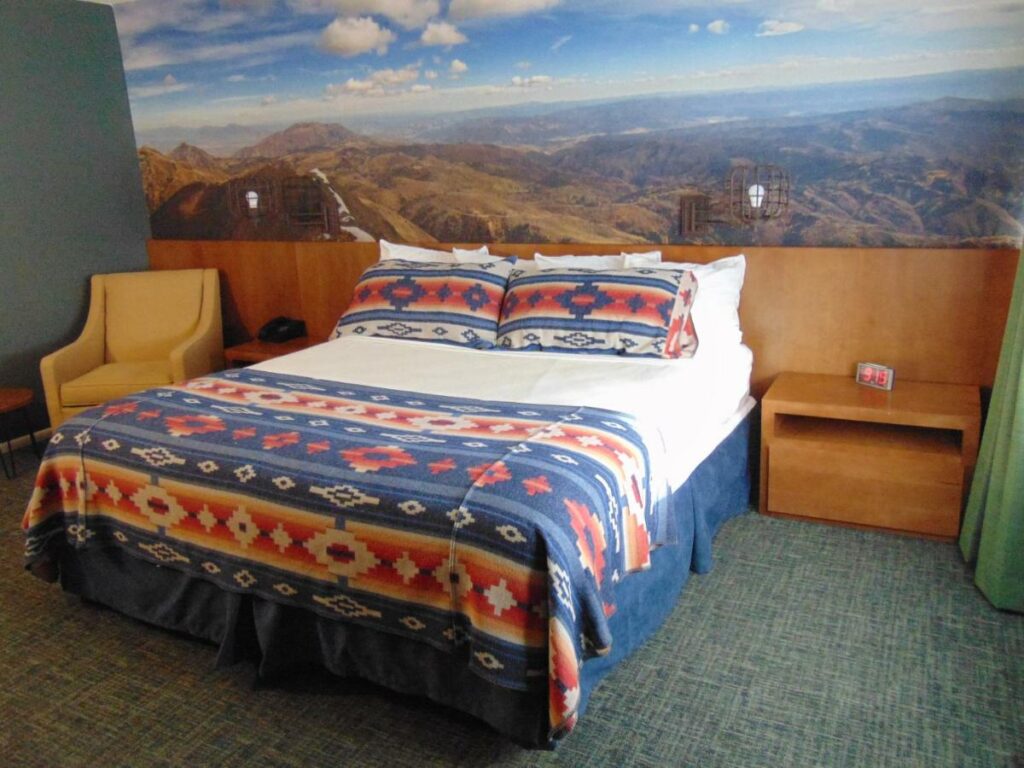 Tropic – located about 10 minutes drive from the park entrance
If you can't find a place to stay in Bryce Canyon City (which would be our first recommendation) we would suggest staying in Tropic which is located only around a 10 minute drive from the park entrance.
Two good things about staying in Tropic are:
1. There are a few good restaurants in town including our personal favorite i.d.k BBQ;
2. It is near one of the popular trails in the park – the Mossy Cave trail.
We definitely wouldn't rule out staying in Tropic, although I do think Bryce Canyon City is the better option. Tropic lodging tends to be a bit cheaper than Bryce Canyon City especially if you are traveling in peak times.
Some of the most cool unique accommodation in Bryce Canyon is also located in Tropic so if you are looking for something a little more unique you might want to stay here. Some of the best places to stay in Tropic include:
We were really tempted to stay in Bryce Canyon Log Cabins because we thought staying in a log cabin would be so cool plus the rate here was really tempting.
You might not get the facilities of a Best Western but there is just something a little bit unique and cool about staying in a log cabin. Plus, it really gives off the National Park vibes you are looking for when visiting a National Park.
The Bryce Canyon Log Cabins are decked out super cute with even a log wood bed.
The downside is that no breakfast is included or even a coffee maker. The decent rate makes up for this IMO.
Book your stay here.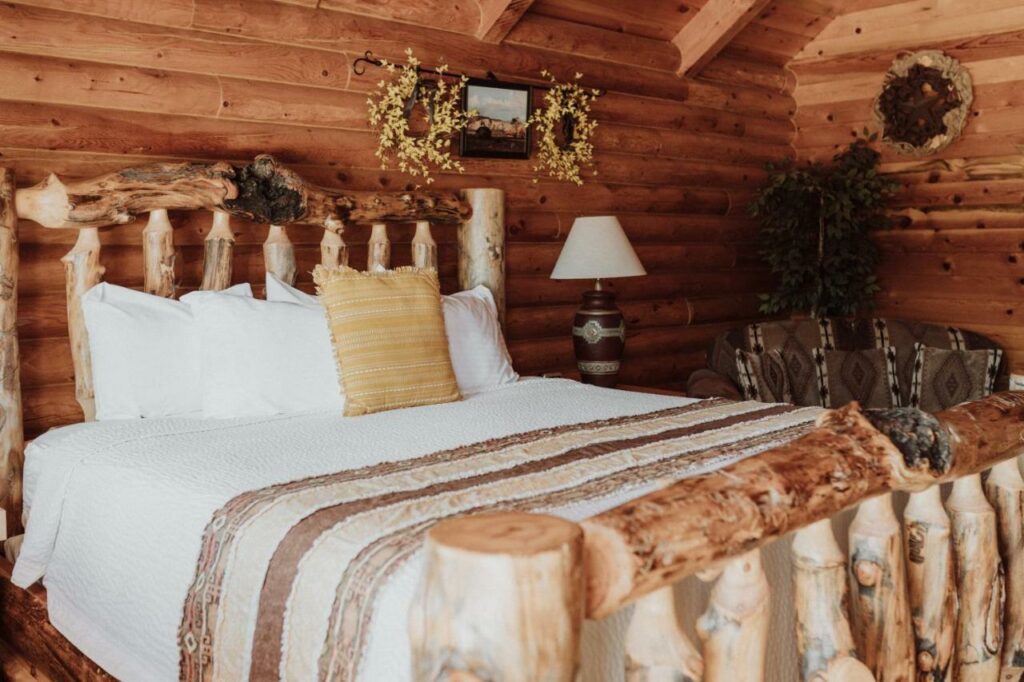 If you prefer breakfast being included in your stay, we would suggest Bryce Trails Bed and Breakfast in Tropic.
This place is consistently well rated with a review score of 9/10 on booking.com which means that guests really love staying here – always a good sign.
There is seriously nothing worse than being on vacation and staying somewhere bad. As a rule of thumb, we always think that if you book something with a rating of 9 or better or booking.com it is more of a sure thing. Of course nothing is ever guaranteed but it is a good sign!
If you need good wifi this is also a great option as the wifi score is a 9.5. Guests also really liked the breakfasts which are home cooked and change daily.
Book your stay here.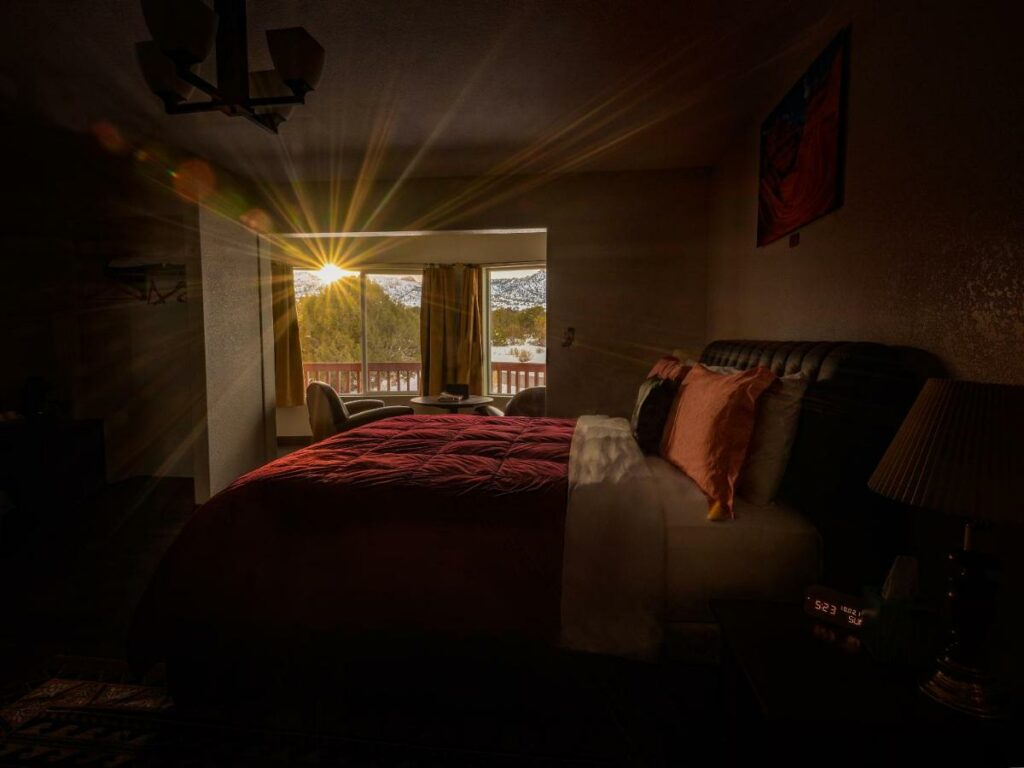 Panguitch – located about 25 minutes drive from the park entrance
The last option of where to stay near Bryce Canyon is the very small but cute town of Panguitch. I would put a stay in Panguitch down as my last choice because it is the furtherest away out of the 3 options, being about a 25 minute drive from the park entrance.
We did consider staying in Panguitch as we found some good quality and reasonably priced accommodation there but ended up thinking that an hour of driving each day (25 mins in and out) was too much for us.
What is cool about this small town in Utah it that it has some really cool old historic homes (including some that you can stay in). There are also a few festivals that are held in Panguitch in June such as the Panguitch Valley Balloon Rally, and the Quilt Walk so you may like to base yourself here if you are traveling in June and also want to visit one of the aforementioned festivals.
We did stop in Panguitch and got some nice coffee at Wanderlust Cowgirl Coffee if you are feeling like a refreshment on the way into the National Park.
The place we almost stayed in Panguitch was Panguitch House, a super super cute historic home in the centre of Panguitch.
What we really liked about this B&B is that it looked super clean and modern and also had rave reviews on booking.com. It was also very reasonably priced we felt for what it was.
We liked it so much that we very nearly stayed here. The only thing that held us back was the drive into the National Park each day. If this doesn't faze you, I would say go for it as this place is really cool.
I did notice when looking that some rooms on the second level of the house have their own private entrance which we really liked as you have that homely feel without living with the host literally.
Book your stay here.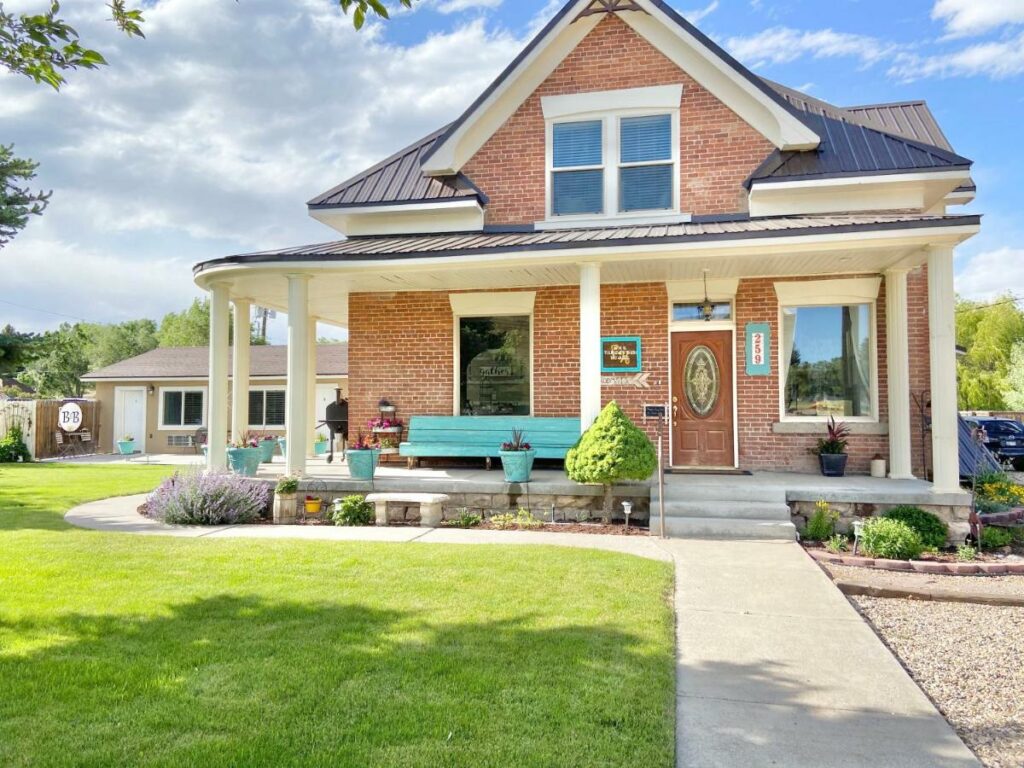 Where to stay inside Bryce Canyon?
Bryce Canyon Lodge
If you want to stay inside Bryce Canyon, the only hotel to to stay at include the park is Bryce Canyon lodge. It is often booked out (for example, it was booked out when we visited) so if you want to stay here you will need to book early.
We wouldn't say that staying inside the National Park is essential as Bryce Canyon City is very close by and has what are in our opinion better accommodation options.
For example, you won't find any aircon or TVs in these rooms, which may not be that essential to you but we would advise checking the weather before coming if you choose to stay here, as it can get quite hot in the middle of summer and I personally would not want to be staying without an aircon in the heat!
If you really don't want any drive at all, this is a nice choice as it is located within walking distance of the canyon rim.
Bryce Canyon Campgrounds
There are also two campgrounds located directly within the National Park. Both of located in good proximity for exploring all Bryce Canyon has to offer.
The North Campground is open year round. From October 16th onwards, you don't have to make a reservation as it is booked on a first come first served basis.
The Sunset campground is closed from October 31. Both campgrounds were actually closed when we visited so make sure you check their website in advance if you intend to camp. I think tent camping would be far too chilly from October onwards!
Places to stay between Bryce and Zion
Wondering where to stay near Zion National Park and Bryce Canyon?
There is nowhere exactly near both National Parks as they are a few hours drive from each other. However, if you did want to base yourself in just one location, we would suggest wither Cedar City or St George.
We actually did stay in Cedar City on our way to Bryce Canyon National Park, which is located about 1 hour from Zion National Park and 1.5 hours from Bryce Canyon. We actually ended up staying here by accident as a snow storm in Utah prevented us from traveling all the way to Bryce Canyon in one go.
We are actually glad we got an opportunity to stay in Cedar City as it was a really nice college town in Utah (we noticed all the young people in the area and figured it out!) The town is known for hosting the annual Shakespeare Festival. If you are looking for things to do nearby to break up your journey, the Cedar Breaks National Monument is nearby.
We stayed at La Quinta while we were in Cedar City which we would recommend as it was clean and comfortable and had a really nice breakfast in the morning. There was a lot of people traveling between Bryce Canyon National Park and Zion National Park staying at the hotel.
The other option that we would recommend in Cedar City which was sold out during our stay is Courtyard by Marriott. Consistently well rated and very clean and comfortable, you really can't go wrong when booking a stay here.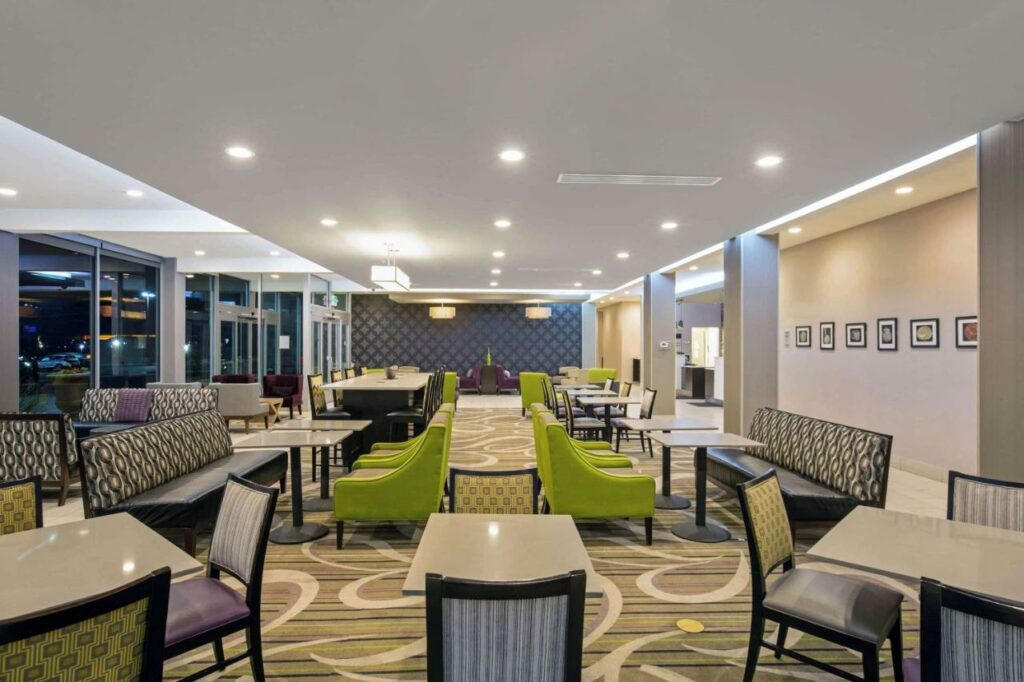 St. George is a great place to stay when visiting Zion National Park as it is only around 40 minutes drive away but it can also be used to explore both National Parks, with Bryce Canyon located around 2 hours drive away.
Of course exploring Bryce from St George would require long drives back and forth each day. You can complete most of the most popular hikes in Bryce Canyon in just 1 day so if you are content doing this, staying in St George might be a good option.
As the largest city in Southern Utah, there are tonnes of good options in town depending on your budget. We have stayed in St George a few times in the past. Most recently we stayed at La Quinta in St George and would recommend it. We find La Quinta hotels to be very consistent across the country and reasonably priced so we often stay in La Quintas if we have the option. If you are looking for something a little nicer, we would recommend Tru by Hilton.
Another option for a city nearby both Zion National Park and Bryce Canyon is to base yourself in Kanab which is 1.5 hours from Bryce and 30 minutes away from the east entrance of Zion National Park.
Kanab might be somewhere you want to consider visiting in any event as there are quite a few fun things to do in Kanab including Best Friends Animal Sanctuary and the Little Hollywood Movie Museum.
If you are looking for a recommendation in Kanab, we would suggest the Hampton Inn.
****
See more Utah fun: