Looking for information on The Narrows Zion National Park Hike? Great Idea!
The Narrows is the most popular attraction in Zion National Park, Utah with a 5 star rating by visitors.
The Zion Narrows is one of the most iconic hikes in the world because of the textured gorge walls which appear to change color from reds to yellows depending on the movement of the sun.
Oh, and it also happens to be rather unique as the trail is almost entirely through a river.
Planning for the Narrows hike in Zion is a unique challenge due to the trail being, err, aquatic. Don't worry, we've hiked the Narrows completely unprepared so we're well placed to tell you how to plan for an enjoyable hike and what NOT to do.
Zion Narrows Hike in a Nutshell

Are the Zion Narrows open? The Narrows trail is currently closed due to snow melt. (source)

Difficulty: Moderate – Hard | Duration: 1 hour – 2 days | Distance: 16 miles (most people hike 1 – 2 miles)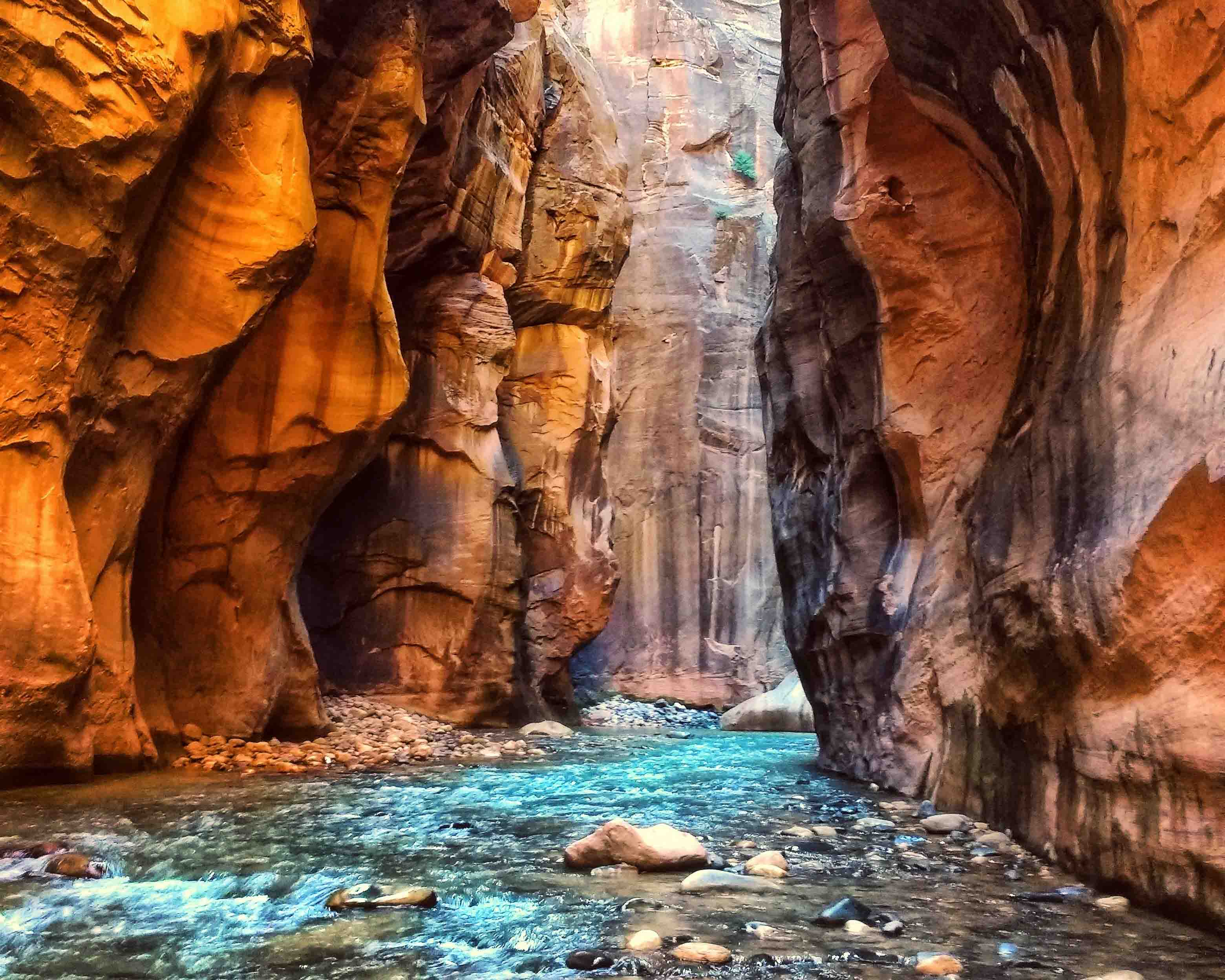 Zion Narrows Hike
The Zion Narrows trail is 16 miles to the Temple of Sinawava which involves a strenuous one-day walk, or camping overnight.
Most people hiking the Narrows chose to hike part of the river before returning (1 hour, or as you like). If you are pressed for time you'll have a fantastic time hiking up the Narrows as far as you please before returning. It doesn't take long to get to the deep canyon walls which are spectacular.
Those daring enough to brave the river 5 miles up to Big Springs and then 5 miles back will be rewarded with the adventure of your vacation (and the soundest sleep you may ever have).
There are two ways to hike the Narrows in Zion: a Bottom Up hike from the Temple of Sinawava or a Top Down hike from Chamberlain's Ranch.
We explain the options in more detail below. But first, the question on everyone's lips.
See more: Best hotels near Zion National Park
How long does it take to hike the Narrows?
The most popular route is the Narrows Bottom Up, which has no formal turnaround point. Two popular turnaround points are:
Orderville Canyon – 5 hours round trip (5 miles round trip from the Temple of Sinawava shuttle stop).
Big Spring – 10 hours round-trip (10 miles round trip from the Temple of Sinawava shuttle stop).
The longest trail of the Narrows is the Top Down from Chamberlain's Ranch to the Temple of Sinawava which is 16 miles. The US National Parks service advises the hike will take 12 hours in good conditions.
Most people taking the Top Down Narrows route camp overnight so they can appreciate the hike a bit more.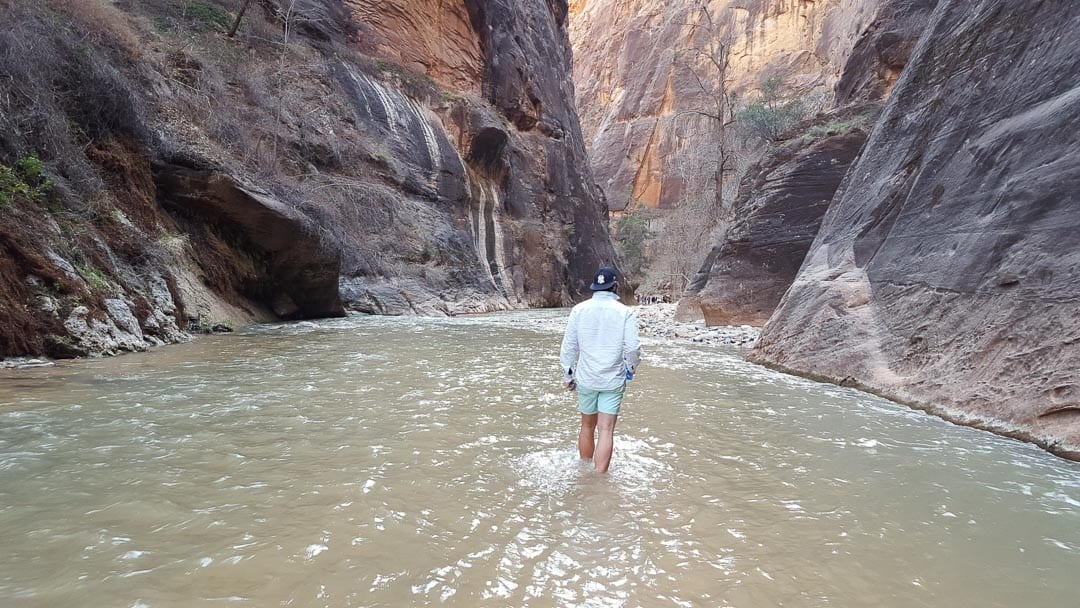 Bottom Up (Day Hike) – No Permit
It is absolutely possible to hike the Narrows (at least a good distance) in one day.
The Narrows trail is 16 miles long, but many hikers wade up the river to Roderville Canyon (5 hours round trip) or Big Spring (10 hours round trip) before returning downstream.
Of course, you can hike a shorter distance. If you do feel like a long hike, it is prohibited to walk beyond Big Spring.
Where to Start?: Catch the bus to the Temple of Sinawava > walk 1 mile along the paved Riverside Walk > get in the Virgin River – it's time to hike (wade) up as far as you feel like!
What do you need to hike the Narrows Zion? A permit is not necessary. You should wear sturdy footwear. Waterproof pants / overalls will make the hike more comfortable, but we survived without them (it was chilly)!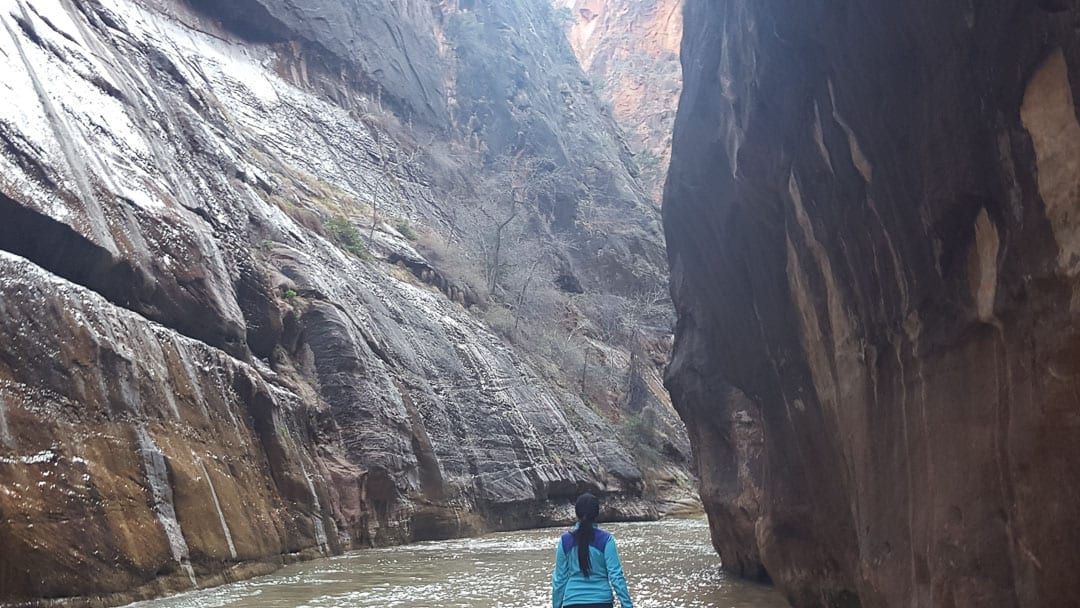 Top Down Hike (12 miles) – Permit Required
For the avid hiker, the 16 mile Zion Narrows Top Down hike can be completed in one very swift day.
Many elect to camp overnight in the Gorge so they can enjoy the walk at a more leisurely pace.
Limited camping permits issued per night (1 night maximum) and can be booked here.
Fees
There is a $30 entry fee to enter Zion National Park which lasts for 7 days.
Pro tip: Buy a America the Beautiful pass which covers entry to all federal parks for 1 year. We inexplicably didn't know about this pass until it was too late, and we ended up paying for entry to 5 – 6 parks.
Permits
Do you need to have a permit to hike the Narrows? No, a permit is not necessary to hike Zion Narrows.
Do you need a reservation to hike the Narrows? No reservation is needed to hike the Narrows but you will need a permit if you chose to hike from the Narrows Top Down trail (usually overnight). Most people hike the Narrows Bottom Up – no permit is required for this route.
You can find out more information about permits and book online up to 3 months in advance here.
Is the Narrows Hike Safe?
If you've read our other posts from Zion National Park, you'll know the other popular trails including Angel's Landing and Emerald Pools are notoriously dangerous. They have a body count serial killers would be proud of.
The Narrows is no exception. Although Park Rangers close the Narrows trail when conditions are dangerous and don't issue permits when the flow is 120 cubic feet per second (cfs) or greater, flash floods do occur.
You should remain vigilant when hiking the Narrows and especially keep children within sight at all times as the river can be deceptively strong.
The rocks can be slippery and it only takes a second to slip and fall under the water which can often by up to mid-waist.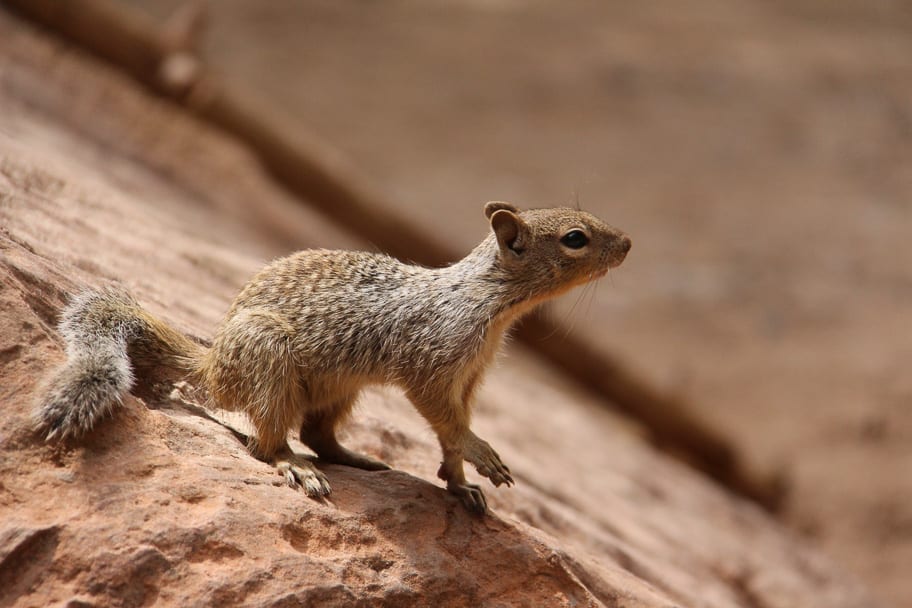 How to Get to the Narrows in Zion?
The Narrows are in Zion National Park, Utah.
Most people chose to drive to the park which can be reached by SR-9. Except for scheduled tours, no public transportation runs to Zion National Park.
The nearest airports are St George Municipal airport (SGU), Cedar City Airport (CDC) 1 hour from the park. For international connections, Las Vegas airport is 2.5 hours away.
It is possible to park in Zion National Park and then walk to Zion Canyon Visitor Center.
How do you get to the Narrows in Zion?
Catch the shuttle from Zion Canyon Visitor Center to the Temple of Sinawava (stop 9).
From the temple walk 1 mile along the Riverside Walk. When the trail end it's time to wade into the Virgin River.
The Narrows Zion Map
This map of the Narrows at Zion shows that you can catch the bus to stop 9 "Temple of Sinawava".
From there you can take a stroller / wheelchair accessible "Riverside Walk" to the Narrows trail head.
What to Pack for the Narrows Zion Hike
Packing for the Narrows is completely different to everything you would expect to pack for a regular hike due to the trail being almost entirely through a river which can be up to waist deep.
Hiking Poles – if you're used to using these, you should definitely bring them on this hike to help you navigate the river.
Dry Bag – If you travel with expensive camera equipment (and who isn't these days when a phone costs $1000?) you must invest in a dry bag. These are so versatile we've used ours all over the world from island hopping in the Philippines to wading through the incredible gorge of Zion Narrows.
Waterproof camera – it would take a braver soul than me to take my DSLR out in the Virgin River if the water is any deeper than my ankles. The current is too strong to risk it. So unless you're supremely confident the river won't be flowing strong, you should ensure you're bringing a waterproof camera.
Waterproof case (mobile) – a waterproof case might just be the best few dollars you ever spend. If you are planning on bringing a phone as your main camera – do yourself a favour and pick a case which has a sturdy lanyard to ensure your phone doesn't disappear in the current if it slips from your fingers.
Waterproof case (camera) – any epic water shots are taken with more than a GoPro – you'll need to have a proper waterproof case for your DSLR.
What should I wear to the Narrows?
Bringing appropriate clothing for your Narrows hike can be the difference between a perfect, unforgettable day and a forgettable day. Failing to prepare is preparing to fail.
Water shoes – Let's start with the obvious, which we somehow managed to remember. Water shoes are a better option than old shoes because you'll be walking over slippery rocks, and old shoes tend to lack grip. Slipping into the river is guaranteed to make your hike a less comfortable experience. Do you need water shoes to hike the Narrows? No, but we recommend them. It certainly made our hike more comfortable and assured.
Neoprene socks – these puppies are great for designed to keep your feet warm and prevent keep sand and rocks from abrading your feet
Waterproof pants / overalls – if you really want to keep warm and comfortable, don't get wet at all with waterproof pants!
Long-sleeve rash shirt with SPF rating – great for keeping you and your family protected from the sun. Plus, it will dry quick if you go for a quick dip (intended or otherwise).
Sunscreen – you'll be exposed to the elements for a long time. Unless you're more powerful than the sun, you should slip, slop slap.
Mosquito repellent – even though the water is fast-moving it's possible to find lots of mosquitoes. Don't let these pests ruin your day.
If you've arrived at Zion without any gear, you can visit Zion Outfitters to rent some of the above gear.
With all that said, as you can see from the photos above we survived without most of the above gear.
Sure, we were colder and wetter than others, but we still enjoyed our hike. Don't avoid the hike only because your don't have all bells and whistles.
FAQ
These are some of the most common questions we've been asked by people planning to visit the Narrows.
What is the best time of day to hike the Narrows?
The morning is the best time to hike the Narrows to avoid crowds which arrive from 9 – 10am. By late afternoon people start leaving too, so you may enjoy a quieter walk.
The downside of hiking the Narrows in early morning / late afternoon – it gets shaded by the high rock face and becomes much colder than in the middle of the day when the sun is directly above. On the other hand, the middle hours of the day is also the best time for photography as the sun overhead will illuminate the rich red stone walls.
How deep is the water in the Zion Narrows?
The water is 2 – 3 feet deep at most points of the trail. After rainfall the water levels can swell to the point where the trail is closed.
Have people died hiking the Narrows?
Yes, sadly people have died while hiking the narrows.
Most recently, a lady died of hypothermia while hiking the narrows during winter. Be careful and don't take any unnecessary risks.
When can you hike the Narrows?
Can you hike the narrows in [insert month]? The Narrows is only closed by Zion National Park rangers when conditions are unsafe. This means you can hike the narrows in January, February, March, April, May, June, July, August, September, October, November and December. I think you get the picture.
Hiking the Narrows in May
The Narrows is closed every year during snow melt, which usually happens in April and May but can happen as late as June or July. The narrows is closed at these times as the melting snow causes high water levels.
Where to Stay
Accommodation in or near Zion National Park fills up on weekends and public holidays, so you may need to consider looking further afar to places like St George. Check out this 9.5 rated 3 star hotel for an idea.
Inside Zion National Park
Next Level Glamping – Take glamping to a whole new level with a stay in these luxury tents under the stars at Zion. Located on 196 acres bordering Zion National Park, Under Canvas Zion offers a unique lodging experience just as incredible and unique as the park itself.
Villa for 12 with Jacuzzi – all the creature comforts (without the creatures) – air-conditioning, wifi, private bathrooms, 5 bedrooms and did I mention a Jacuzzi?
Private Mountain Lodge – adjacent to the Zion National Park Visitor Center – the location is tough to beat.
The Narrows Campgrounds
There are 12 dedicated Narrows campsites: Deep Creek, River Bend, Right Bench, Flat Rock, Ringtail, Kolob Creek, Box Elder, Boulder Camp, Left Bench, West Bend, Spotted Owl and High Camp.
Note, there are no facilities (bathrooms, electricity etc). Reservations are possible online and on a walk up basis.
Find out more information and reserve your spot here.
Other Zion Campgrounds
Check out this search to find other campgrounds near Zion which you can book in advance.
More Zion National Park Blog Posts
Emerald Pools – this hike is unmissable too. But it's innocuously dangerous. You'll be shocked to hear how many people have died hiking it and how!
If you are traveling in Utah, you might also enjoy our guides to Utah's best cities including Provo and Salt Lake City.
Going to Bryce National Park next? Check out our guide to the best places to stay near Bryce Canyon.
Comment below if you have any questions about hiking the Narrows or visiting Zion National Park. Don't forget to caption your instagram snaps with some fun Utah Quotes!