Looking for information on the Emerald Pool in Zion National Park hike?
The Emerald Pools trail is an easy hike, making it one of the most popular in Zion National Park, Utah. Another of our favorite hikes in Zion, is The Narrows which you can also check out.
Aquatic green algae gives the three sets of pools a unique color which has lead to the name Emerald Pools.
The pools create an oasis the desert of Zion and act as a safe haven for wildlife.
Is Emerald Pools trail open? Yes.

The Upper Emerald Pools trail and the Lower Emerald Pools trail are now open (they were previously closed due to storm damage)

Note, the Lower Emerald Pools Trail no longer connects to the Kayenta Trail.

Find out all the most up to date information here.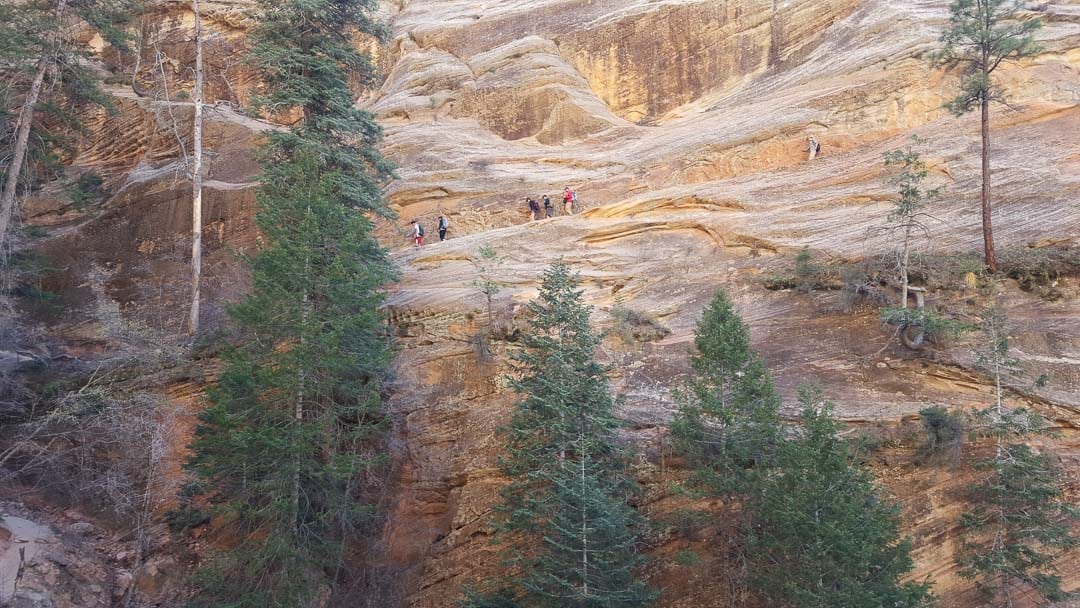 Emerald Pools Hike
The Emerald Pools Trail, Zion, includes the Lower Emerald Pools, Upper Emerald Pools and the Kayenta trail which you can take to make a loop, rather than retracing your steps.
It is one of the best easy hikes in Zion National Park which is great for families.
Duration: 1.5 – 4 hours | Difficulty: Easy | Terrain: Paved | Length: 2 miles
Getting there: Take the Zion Canyon Shuttle to the 5th Stop "Zion Lodge". For a longer hike stop at the 6th stop "the Grotto" to hike the Kayenta Trail.
What to Bring: Lots of water, good shoes, hiking poles (if you use them and plan to walk to the Upper Emerald Pools) and most importantly a good camera because the views are stunning and you'll want to post a pic to Insta later.
Lower Emerald Pools
The trail starts from Zion Lodge, which is also your last stop for restrooms, drinking water, a snack bar and restaurant.
Your hike begins by crossing a photogenic footbridge over the Virgin River.
Turn right and follow the paved path, with minimal elevation, and you will reach the Lower Emerald Pools in half a mile.
Along the way you can appreciate the beautiful winding river.
When water levels are high, you will discover two waterfalls tumbling down into the Lower Emerald Pool.
The shimmering pools of water and natural waterfalls create a bucolic setting which will leave you more peaceful and stress free than when you arrived.
Emerald Pools Tip #1: Start your hike early to avoid the tourists which start streaming in after 10am. Bonus – depending on the season you might be lucky enough to hike the whole way in the shade.
Emerald Pools Tip #2: In summer expect the lower pools to be largely dry, unless a recent storm has passed.
Emerald Pools Tip #3: If you want to experience the waterfalls when they are more powerful, visit during winter and early spring when the water levels are likely to be higher. Or, if you can pick and chose your dates, visit after heavy rainfall.
See more: Best hotels near Zion National Park
Upper Emerald Pools
The Upper Emerald Pools hike is a more challenging hike but definitely worth the effort.
The trail is not protected from the elements or shaded, making the last quarter mile stretch a hot affair.
The the path becomes narrower and unpaved in spots. The terrain is sandy and if you use hiking poles, you will use them on this stretch.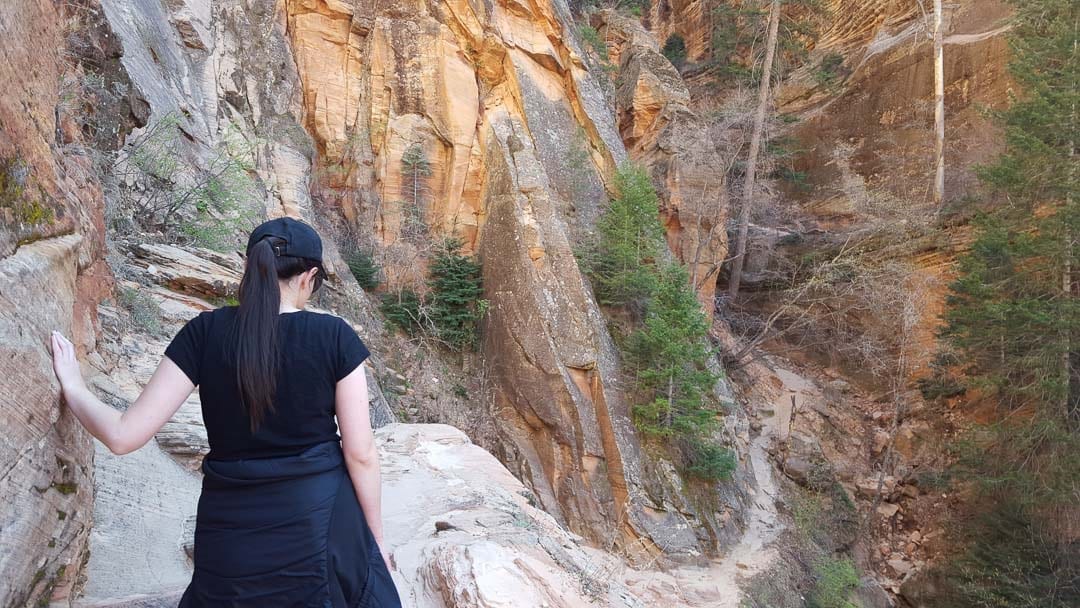 Your reward is spectacular views over Zion valley and a feeling of tranquility you won't achieve if you turn back at the more family friendly Lower Emerald Pools.
Upper Emerald Pools Tip: Rather than retrace your steps, take the Kayenta Trail to loop back to the Grotto where you can catch the Zion shuttle back to base. You'll love the additional views.
Emerald Pools FAQ
Can you swim in the Emerald Pools in Zion?: No, swimming it prohibited in the Emerald Pools to preserve the delicate habitat.
How long does it take to hike the Emerald Pools?: 1.5 – 4 hours, depending on your level of fitness and how frequently you want to stop to enjoy the lovely scenery.
Has anyone died hiking Emerald Falls?: You might be surprised to find out that there is nearly as many deaths from the Emerald Pools in Zion National Park (7) as there is from the infamous Angel's Landing (8) (source). On average, Zion records 2 – 3 fatalities per year, mostly due to falls from the sandstone cliffs.
Tips to keep safe: DON'T: take selfies near the ledges DO: add an awesome short selfie caption
How to get to Emerald Pools Zion: Take the Zion Canyon Shuttle to the 5th Stop "Zion Lodge". For a longer hike stop at the 6th stop "the Grotto" to hike the Kayenta Trail.
Where to Stay?
Accommodation in or near Zion National Park fills up on weekends and public holidays, so you may need to consider looking further afar to places like St George.
Check out this 9.5 rated 3 star hotel for an idea.
You might also like: St George Date Ideas
***
Don't forget to caption your instagram snaps with some fun Utah Quotes!
If you are traveling through Utah, you might also like to check out our guides to some of Utah's best cities including Salt Lake City and Provo.
Going to Bryce National Park next? Check out our guide to the best places to stay near Bryce Canyon.
***