There are seriously so many awesome things to do in Bryce Canyon National Park. It might not be the first National Park you think of but we think it is one of the best!
Bryce Canyon National Park is a landscape filled with magic and wonder. I have visited Bryce Canyon National Park multiple times and it never gets old or boring.
Tall, thin rock spires known as hoodoos are the park's main attraction, drawing over 2.5 million annual visitors to see their charm up close.
Many of the park's best activities are centered around the utterly photogenic hoodoos, but there are many other ways to spend time in Bryce Canyon National Park. From biking to horseback riding to scenic drives and hiking trails, the park's list of activities are seriously endless!
This 20 Best Bryce Canyon things to do guide intends to simplify your visit to Bryce Canyon by highlighting the park's most worthwhile activities.
Plan your trip to Bryce Canyon:
📚 Best guidebook of Bryce Canyon
🏨 Book your Bryce Canyon accommodation with booking.com
🏕 Plan your tours with Viator
20 Best Things to Do in Bryce Canyon National Park
1. Bryce Canyon Rim Trail
Most of the hoodoos in the park are found in massive canyon-like bowls known as amphitheaters. These nature bowls have been carved out by weather elements over thousands of years, with the hoodoos remaining as the survivors of this weathering.
One of the best ways to take in the primary amphitheater, Bryce Amphitheater, and all of its hoodoos is via the Bryce Canyon Rim Trail, and the top-down views of the vibrant hoodoos are spectacular. This trail totals nearly 5.5 miles each way, but parkgoers can hop on the trail at many easy-accessed points and hike as much or as little as they desire.
A two-mile stretch in the middle of the trail remains relatively flat, making it accessible to all visitors. Many popular viewpoints are also found along the Rim Trail, including Sunrise Point and Sunset Point. While many of the trails in the park are not dog-friendly, this stretch between the two points is.
If you intend on hiking the entire trail, be prepared for steep, less accessible hiking on either end. Those ready for the challenge of completing these portions will enjoy many different amphitheater perspectives, with far fewer hikers along the path.
Length: 5.5 miles long (one way)
Difficulty level: Easy paved trail (1 mile) between Sunrise to Sunset Points where you can see epic views of the hoodoos from above.
2. Wall Street
If you are wondering what to do in Bryce Canyon, Wall Street is arguably the most impressive natural feature aside from the hoodoos in Bryce Canyon. The larger-than-life slot canyon that looms over hikers is named for its skyscraper similarity to something you'd see in New York City.
The canyon can be reached by descending the south end of the Navajo Loop but completing the entire hiking loop isn't required to experience the wonder of the walls.
The trail starts near the top of the canyon before dropping you down on a series of switchbacks. It's a decently steep climb to get back out of the canyon, but well worth it.
Down in the heart of the walls, you'll find plenty of nooks and crevices to peer through, and the Douglas firs that somehow grow in these darkened areas are extremely photogenic.
Note: Wall Street is often closed due to winter conditions and problems such as retaining wall damage. Check in advance at the National Park Service Website to see if it is open before you start your hike.
If it is not closed, we would highly recommend wearing proper hiking boots and crampons for grip. We tried it without crampons and slipped all over the place!
Length: 3 miles if you do the entire

Navajo Loop

Difficulty level: Moderate walk in and out of the canyon
3. Sunset at Sunrise Point
Sunrise Point is one of the best viewpoints in all of Bryce Canyon. It is seriously one of the unmissable things to do at Bryce Canyon.
The lookout is located on the Rim Trail, though it can easily be reached from the Bryce Canyon Lodge. While sunrise is equally incredible at this notable point (hence the name), you'll find many visitors head to nearby Sunset Point for sunset, which leaves Sunrise Point far less crowded to take in the setting sun.
The lighting on the amphitheater and hoodoos is simply magical. Look to the north and you'll spy Boat Mesa, a distinct rock structure towering above its surroundings at over 8,000 feet.
Tip – Check the weather in advance as cloud coverage, snow and rainfall can affect your sunrise/sunset and not make waking up early worthwhile!
Length: 1 mile from Sunset to Sunrise Point. Only paved section of the Rim Trail. Leased pets allowed.
Difficulty level: Easiest hike in the park with views of the Bryce Amphitheatre.
4. Sunrise at Sunset Point
Walk the Rim Trail one half-mile south of Sunrise Point, and you'll find yourself at the Rim Trail's other most notable viewpoint, Sunset Point. Similar to the suggested time to take in Sunrise Point, Sunset Point is best enjoyed at Sunrise Point, while the masses flock to Sunset Point instead.
This stretch between the two points is dog-friendly and paved and is known to be the busiest area in the park. You'll find a bike path, parking lot, and shuttle drop-off points nearby.
Length: 1 mile from Sunset to Sunrise Point. Only paved section of the Rim Trail. Leased pets allowed.
Difficulty level: Easiest hike in the park with views of the Bryce Amphitheatre.
5. Southern Scenic Drive
After exploring the heart of Bryce Amphitheater, the Southern Scenic Drive is the perfect follow-up activity. The drive winds along the park's south side for 15 miles, with many notable viewpoints before ending at the Rainbow Point lookout parking lot.
As you drive toward Rainbow Point, you'll find many notable lookouts on your left-hand side. Consider stopping at those viewpoints on your way back so you don't have to cross oncoming traffic.
Agua Canyon and Natural Bridge are two of the most worthwhile stops along the drive. We really loved making this drive at sunset and stopping at the various viewpoints along the way.
Length:

15 mile drive

Difficulty level: Easy drive. Snow chains or 4WD is required in snow which happens from November onwards.
6. Red Canyon (Dixie National Forest)
Exit the park and head west on Highway 12 for just a few miles, and you'll find yourself in the Dixie National Forest and Red Canyon. Despite this area not being a part of the park, it's not an area you want to miss! One of the best things to do near Bryce Canyon without question.
The red rock landscape is simply stunning, and you can marvel at it from the road, by bike, or on one of the forest's many hiking trails, such as the Red Canyon Trail.
On your drive there, you'll pass a visitor center that can provide you with all the information you need about the area.
Some of the most popular things to do in Red Canyon include:
Hike park the popular trails in the Pink Ledges, Hoodoo, Birdseye and Golden wall;
Go on a Horse riding tour at Red Canyon;
Go mountain biking at Thunder Mountain and Red Canyon Bicycle trail.
7. Fairyland Loop
Still wondering what to see in Bryce Canyon?
The hike around the Fairyland Loop is arguably the most challenging hike in Bryce Canyon, but the scenery is worth the trek. It's also a superb choice for solitude if you're looking to escape the worst of the crowds in higher-trafficked areas.
Many people choose to complete Fairyland loop instead of the Navajo Loop as it is much less busy!
While there are some steep sections along the path, the trail levels out periodically to give you a break from its up-down nature. If you want to get close to hoodoos coming in all shapes and sizes, this trail is a can't-miss.
Length: 8 miles
Difficulty level: Moderate to challenging
8. Stargazing at the Amphitheater
One of the best parts about adventuring far away from civilization is how simultaneously dark and lit up the sky is on a clear night. Just a few years ago, Bryce Canyon National Park was designated as an International Dark Sky Park.
Head out to the amphitheater at night or stick around after sunset and marvel at the sky as stars begin to reveal themselves. It's the perfect way to end a day in the park with unparalleled peace and beauty. And the hoodoos standing in the moonlight add a fun, spooky dimension to the setting.
You may also want to inquire with the Visitor Center about the park's monthly ranger-led moonlight hikes.
9. Scenic Drive Outside the Park
While it's true you can spend a few days in Bryce Canyon without feeling the need to leave the park's boundaries, a trip to this region of Utah offers you plenty of opportunities to explore other scenic areas. In or out of the park, a scenic drive is one of the best Bryce Canyon activities.
The top choice would be a drive east on Highway 12 that ebbs and flows over the ever-changing landscape.
You'll find yourself driving cliffside at one point and down in the middle of a canyon the next. Use the beautiful summit Powell Point Vista as a turnaround point, or head a bit further to the charming town of Escalante.
10. Horseback Riding
What better way to experience the beauty of Bryce than on horseback? The park offers guided horseback rides from April to October, and you'll have different time lengths to choose from.
After you get familiar with your horse, you'll set out from Sunrise Point and descend into the canyon, where you'll get spectacular saddle-top views. The park states many of its riders are first-timers, so even the most inexperienced riders are invited to partake in this unique experience.
You can also book a horse riding tour at Red Canyon here.
11. Bristlecone Loop, Yovimpa Point, and Rainbow Point
At the end of the park's Southern Scenic Drive, you'll reach the Rainbow Point parking lot, where you can access several notable points of interest.
While Yovimpa Point, Rainbow Point, and Bristlecone Loop can all be treated as separate activities, the easiest way to enjoy them is via a 1.3-mile loop.
From each of the two lookouts, you'll see colorful rock steps known as the Grand Staircase, with canyons and mountains filling the rest of the background.
The remainder of the loop meanders through the forest past dozens of bristlecone pine trees. These trees, which can be as old as 2,000 years, are easily identifiable by their twisted nature.
Length:

1.3-mile loop

Difficulty level: Easy
12. Camp in the Park
Bryce Canyon has two primary campgrounds, North Campground and Sunset Campground. Sites can be reserved during peak camping season at North Campground, but Sunset Campground is first-come, first-served.
Each campground offers convenient access to many of the park's most popular features. The North Campground is just steps from Bryce Amphitheater, and Sunset Campground is located just across the road.
Campers can enjoy shuttle service from Sunset Campground, but many of the park's most trafficked areas can also be reached on foot.
The North Campground is open year round. From October 16th onwards, you don't have to make a reservation as it is booked on a first come first served basis.
The Sunset campground is closed from October 31. Both campgrounds were actually closed when we visited so make sure you check their website in advance if you intend to camp. I think tent camping would be far too chilly from October onwards!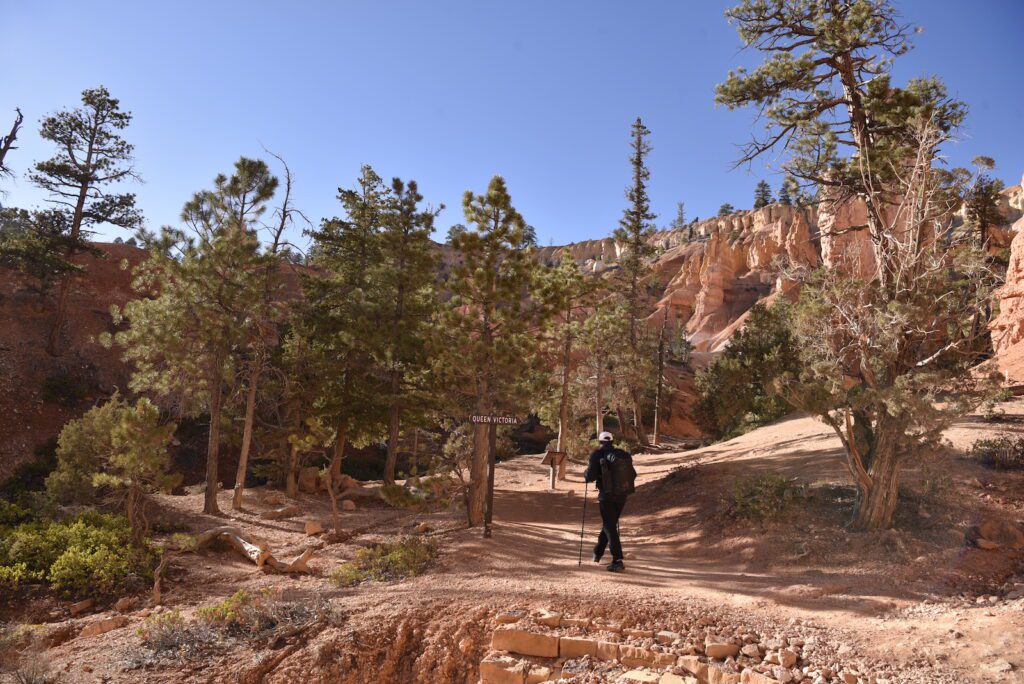 13. Peek-A-Boo Loop
One of the best parts of Bryce Canyon's trail network is that many of the trails can be combined and pieced together to form several different hiking routes.
Peek-A-Boo Canyon is a perfect example of that. Hike the full 4.9-mile trail or combine it with a connecting trail like the Navajo Loop.
When it comes to diversity, this trail is hard to beat. As the trail's name alludes to, a hike here is full of surprises, as the path takes you through forests, past arches and spires, and over the tops of ridges and canyons. Some of the best views you'll encounter in the park seemingly come out of nowhere on this trail.
Length: 4.9

mile trail (3-4 hours)

Difficulty level: Moderate
14. Bike Trails
Bryce Canyon is a surprisingly bike-friendly park, making it the perfect mode of transportation for those staying in the park or just outside its boundaries.
The first three miles through the park feature a bike-friendly shared path, with Bryce Amphitheater and its activities located directly off it.
If you're interested in a longer ride, continue down the Southern Scenic Drive road or take a 5-mile route west to Red Canyon.
You can check out the National Park Service for more information about biking in the park.
15. Visit Bryce Canyon Lodge
Beautifully constructed Bryce Canyon Lodge offers a nice respite from outdoor activities of the park, especially when temperatures soar.
Grab a meal at the full-service restaurant or a caffeine boost at the coffee shop. Stop into the general store for your camping essentials and choose from many different souvenirs at the gift shop.
If you don't want to camp, The Bryce Canyon Lodge is the only accommodation directly in the National Park. It is closed for the season usually around November. We visited in early November and it was closed.
We preferred staying at the more comfortable Best Western Plus Bryce Canyon Grand Hotel in Bryce Canyon City (directly before the park's entrance) in any event so this was not a big disadvantage to us.
16. Navajo Loop Trail
The Navajo Loop Trail (starting from Sunset Point) is one of the best family-friendly activities in the park. Despite being rated as a moderately difficult trail, its distance of 1.5 miles makes it the best way for parkgoers to experience the depths of Bryce Amphitheater without exerting too much energy.
Thors Hammer is one of the most iconic sites right off the Navajo Trail.
Wall Street is one of the best features of this trail, but you'll discover a variety of other scenery as you complete the loop back up to the top of the canyon.
Just don't let the distance fool you into wearing a pair of tennis shoes. You'll want your best hiking boots to traverse the switchbacks that lead into the canyon.
Note: This is not a loop in winter.
Length: 1.5 miles (1-2 hours)
Difficulty level: Moderate
17. Tower Bridge
Have you ever wondered what it would be like to see the London Bridge? The trail to Tower Bridge won't take you to London, but it will lead you to a natural wonder that mirrors the world-famous bridge across the globe.
The hike to Tower Bridge covers the southern end of the Fairyland Loop hike before an offshoot leads to the bridge, allowing hikers to get more than a glimpse of the picturesque setting without being required to complete the entire trail.
The bridge's location is far enough away from many of the other high-trafficked areas of Bryce Amphitheater, and you'll get a sense of that isolation when you reach it. It's a setting you'll find is worth packing lunch for.
Length: 8 miles (if you complete the entire Fairyland route)
Difficulty level: Moderate to challenging
18. Bryce Point to Lower Inspiration Point
Bryce Point to Inspiration Point is part of the Rim Trail, but it's worth highlighting as a separate route since it's often done this way. The easiest way to complete the hike is starting at Bryce Point and finishing at Inspiration Point. This will help you avoid the worst uphill climbing on the route.
Unlike the Rim Trail sections near Sunrise and Sunset Point, this 3.9-mile route has its fair share of ups and downs, but the rim-side views are spectacular and feel more natural than the built-up viewpoints.
If you'd prefer to hike the trail one way and move on to another activity, consider taking the park shuttle that picks up and drops off trail-goers at each of the trail's two launching points.
Length:

3.9-mile route

Difficulty level: Moderate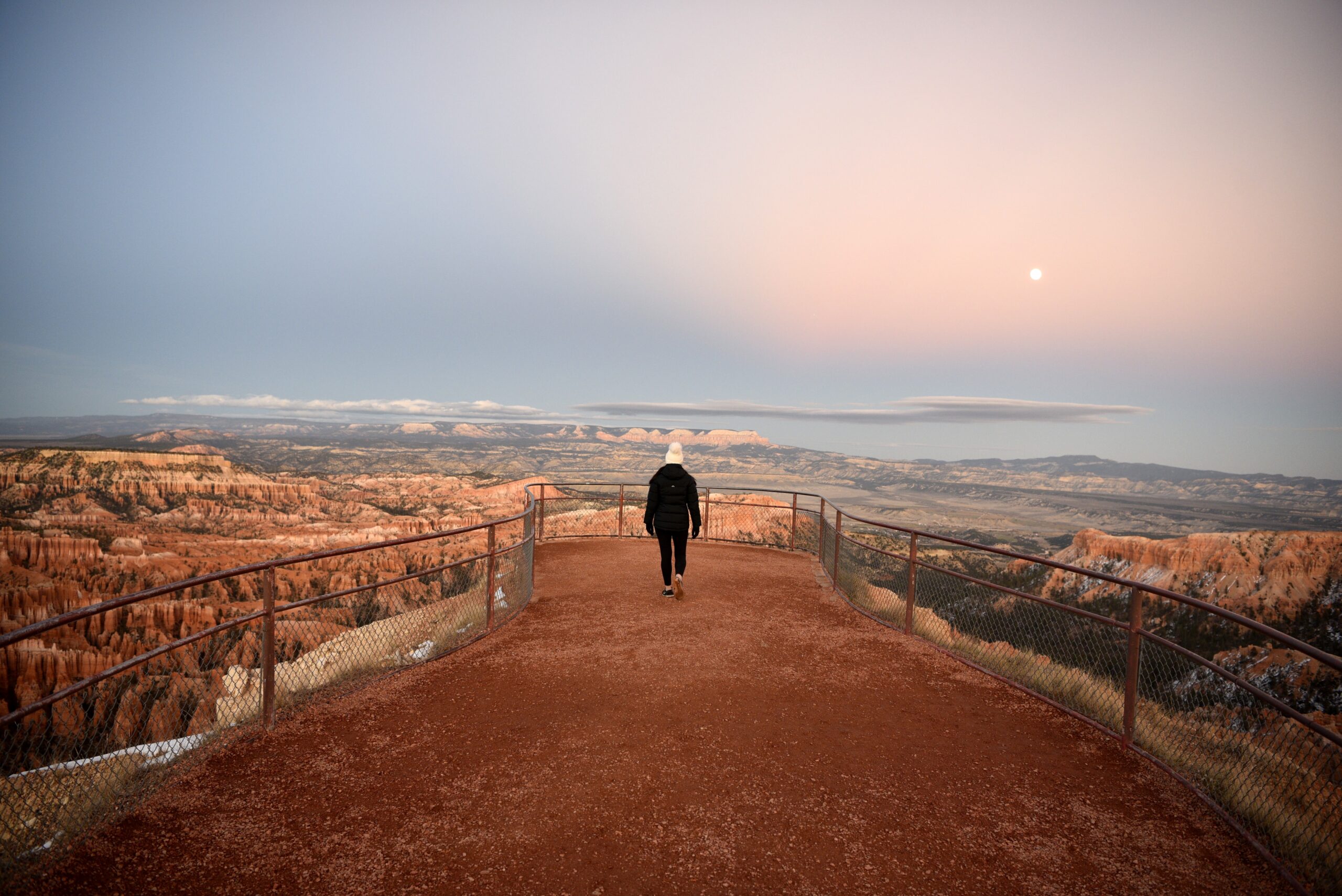 19. Queen's Garden Trail Loop
Queens Garden ranks as one of the park's top hikes because of its location, distance (1.8 miles), and natural wonders featured along the route.
The trail, named for Queen Victoria, drops hikers down into the canyon, through the forest, and past all kinds of interesting-shaped hoodoos.
As you near the lowest portion of the trail, you'll bump into the Queen herself (the hoodoo version) and her garden. Afterward, you can re-trace your path or jump onto the Navajo Loop to complete a diverse 3-mile hiking route.
Length:

1.8 miles however, it can be longer if you combine it with the Navajo Loop which is recommended.

Difficulty level: Moderate. You need a reasonable level of fitness to hike out of the canyon.
20. Mossy Cave Trail
You won't find much natural water at Bryce Canyon, which makes the small waterfall featured on the Mossy Cave Trail a pleasant surprise.
The cave alone isn't a must-see landmark, but the short hike's fall and babbling stream are a great way to mix things up. And if the temperatures are soaring, you may even want to use it as an opportunity to cool off. There are also some nice views to check out along the hike.
The trail is located on the far north side of the park, so getting there will provide parkgoers with an unexpected driving adventure that showcases a less-seen side of the park.
Length: 0.9 mile out and back trail
Difficulty level: Easy
Where to stay in Bryce Canyon?
There are some great places to stay in Bryce Canyon. You can check out our full guide to the best places to stay near Bryce Canyon.
If you want to stay inside Bryce Canyon, the only hotel to to stay at include the park is Bryce Canyon lodge. It is often booked out (for example, it was booked out when we visited) so if you want to stay here you will need to book early.
Otherwise here is our recommendations of where to stay in Bryce.
You can also camp in the National Park.There are also two campgrounds located directly within the National Park. Both of located in good proximity for exploring all Bryce Canyon has to offer.
The North Campground is open year round. From October 16th onwards, you don't have to make a reservation as it is booked on a first come first served basis.
The Sunset campground is closed from October 31. Both campgrounds were actually closed when we visited so make sure you check their website in advance if you intend to camp.
Note: I think tent camping would be far too chilly from October onwards!
Map of the Best Things to Do in Bryce Canyon National Park
Here are Bryce canyon must see spots mapped for you.
How To Get to Bryce Canyon National Park
Closest Airports: Henry Reid International Airport in Las Vegas is the closest (267 miles) major airport for those heading to Utah by plane. Salt Lake City International Airport (273 miles) is the second-best option.
Road Trip Proximity: If Bryce Canyon is part of your road trip itinerary, nearby popular destinations include Escalante, Utah (48 miles); Capitol Reef National Park (118 miles); Zion National Park (86 miles); and the Grand Canyon North Rim (156 miles).
Entering the Park: Bryce Canyon National Park has a simple layout with one primary entrance. Nearly all visitors will take Hwy 12 to reach the park before heading south on UT-63 South for two miles, where the small town of Bryce Canyon City leads into the park entrance.
Note: There are places to fill up with gas right outside the park so you don't have to worry too much about running out of gas.
How Many Days Do You Need in Bryce Canyon National Park?
Two full days is an ideal amount of time to explore the major sights at Bryce Canyon. This will allow you to hike 2-3 of the amphitheater trails, take the Southern Scenic Drive, and visit most of the major lookout points in the park.
Three days will give you a bigger window to take in at least one sunrise and sunset at the amphitheater, which should both be top priorities when visiting.
A third day will also allow you to explore nearby scenic areas outside the park, like the Dixie National Forest and Red Canyon. You can also take scenic Highway 12 east toward Escalante to obtain diverse desert views with hiking opportunities along the route.
If you are visiting Bryce Canyon in just one day, we would recommend focusing on the Navajo Loop as we rate it as the simple best thing to do in the National Park.
When to Visit Bryce Canyon National Park?
Bryce Canyon's high elevation means that weather can be unpredictable most of the year. It also means winters are colder than you might imagine, and summers are mild overall.
Snowfall is common from October through April, so pack warm if you plan to visit during these months and expect many trails to be limited or closed altogether. It gets very cold after November in Bryce so remember to pack accordingly.
During the summer, afternoon thunderstorms that bring lightning are commonplace and not something you want to get caught in. Check the forecast and start your summer days early to be sure you can safely get your priority activities in.
May through September is undoubtedly the best time to visit the park, but expect plenty of other travelers to do the same. Major viewpoints and activities will be congested, but fortunately, there are several highly-rated, less-trafficked trails to escape the crowds.
See more: Best time to visit Utah
What to Bring On Your Trip To Bryce:
There are a handful of items you'll want to include when packing for Bryce Canyon National Park.
Daypack/Dry pack: If you plan on hiking in the park, you'll want to keep a daypack on hand for all your essentials. A camel pack can also be useful.
Water Bottle: There may not be a more important item on this list than a refillable water bottle. Staying hydrated in the park is a must, and the park has four convenient water stations to refill when you're running low.
Footwear: Many of Bryce's trails feature loose rock, steep switchbacks, and exposed cliffs. Bring your best hiking boots to give you secure footing as you navigate the trails. Link to recommended boots (Men) (Women)
Sun Protection: If you've ever visited Utah, you know the sun can be intense. Many of Bryce Canyon's hikes lack shade, so you'll want to pack protective clothing and sunscreen to prevent overexposure to the elements. This sunscreen is great and SPF 50+ which is very important.
Layers: Weather is often unpredictable at Bryce. Keep a few different layers, including a rain jacket, on hand to ensure you're ready to handle whatever elements Mother Nature throws your way.
Hiking Poles: If you anticipate needing an additional tool to shimmy up and down the amphitheater switchbacks, consider bringing a hiking pole to give you more stable footing.
Know Before You Go:
The park offers a shuttle service from April to October that takes park-goers back and forth between Bryce Amphitheater's major points and several pick-up points near the park's entrance.

If you're driving a vehicle into the park, you will need to purchase a seven-day national park pass for $35 or an $80 annual America the Beautiful pass that will grant you access to every national park for a year. If you are entering by bike or on foot, you can purchase a $20 pass that is good for one week.

Visitors who have served in the military or have a permanent disability receive free entrance to the park.
Information on the park shuttle can be found here.
You can access current weather conditions here.
Pets have limited access to the park. You'll find all the park's pet-related information here.
***
Planning a trip to more of Utah National Parks? Great! Here's some posts you might like to check out: