Visiting Bryce Canyon in November is a really good time to travel to the National Park, especially if you don't mind a bit of cold!
While November is technically fall, it is pretty chilly by November in Bryce and possibly the first bit of snow has already fallen. What we liked about visiting in November is that while it is chilly it is not so cold that you don't want to go outside (it can get like that in December, January, February in Bryce).
This of course should not deter you visiting Bryce in November as there are many fun things to do in late fall, and most of the trails in the park are still very much accessible. We also loved that this time of year is outside of the busy season in the National Park (which ends in October) so there is less traffic on the trails, more parking available and hotel prices are cheaper.
We honestly did not know what to expect when visiting this time of year so we have created a November Bryce Canyon travel guide to help plan your trip including the best things to do, where to stay, what's open and what is not and what to pack (we had some fails that we can help you avoid!)
Visiting Bryce Canyon in November
What I personally liked a lot about visiting Bryce Canyon in November is the weather in the middle of the day. It was perfect trekking weather, cold enough to wear a light jacket and warm enough not to be freezing.
I will note that you should make the most of the midday hours in November as the mornings and evenings in the National Park are very chilly.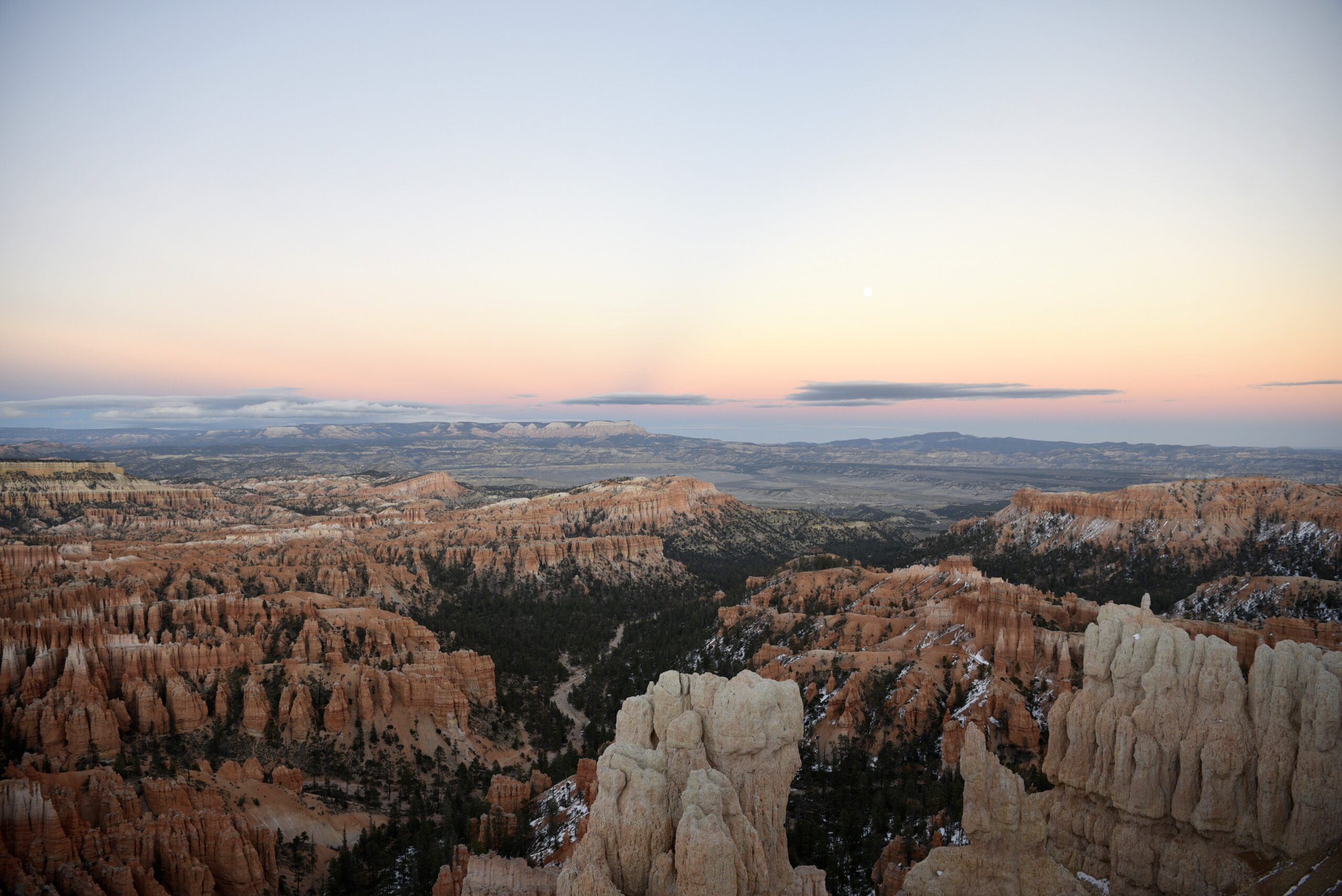 Weather at Bryce Canyon in November
It can snow in Bryce Canyon as early as October and sometimes even earlier in the year due to the high altitude.
We actually couldn't make it to the National Park on our first attempt as the country roads entering the National Park were too icey in early November. While it doesn't always snow in Bryce in November, be prepared that it might as it is a real possibility.
The temperatures at Bryce in November reach highs of 47 degrees Fahrenheit (8.333°C) in November with lows around 20 degrees Fahrenheit (-6.667°C). In early November, it reached about 27 degrees Fahrenheit when we were there at night.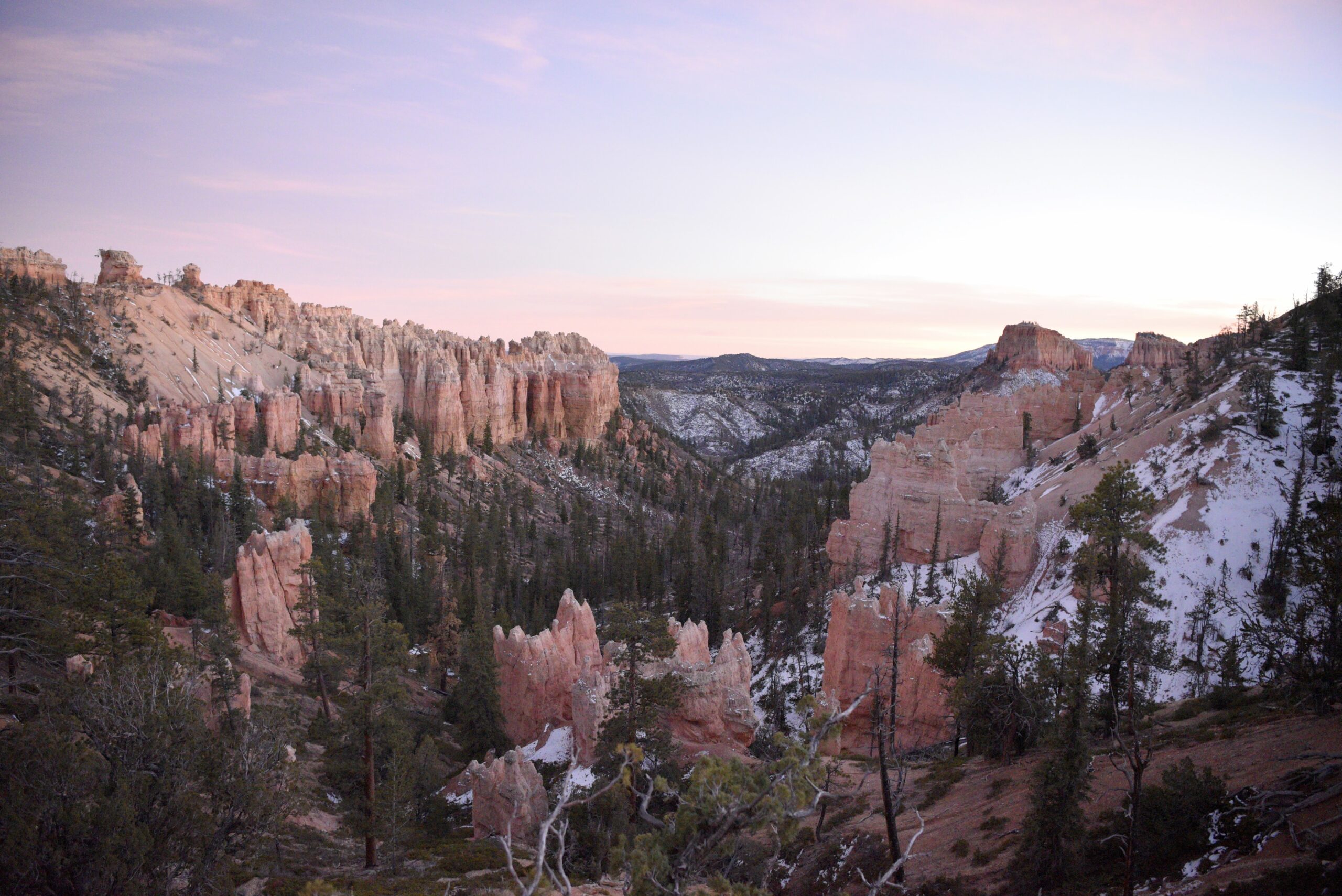 What to bring with you?
As it is going to get chilly, you will want to be prepared. We would suggest dressing in layers so you can peel off during the warm midday sun. It sometimes can get a little windy at Bryce so you don't really know what to expect. You can have a look at the weather in advance on the NPS website. This will also tell you if there are any park closures.
Bryce Canyon in November packing list (including some things we wish we had!)
I will make some special mentions too. I came thinking I could do the hikes in sneakers (so wrong)! It snowed just before we visited and I had to turn back on our first day of hiking.
It was so slippery and muddy I almost slipped over the edge in my sneakers. If it snows or rains the tracks become extremely slippery and it is almost like skating on ice. I saw another lady have the same problem and almost push over a group of hikers sliding down the path.
There were warning signs at the top of the hikes that you should do the hikes only in proper hiking boots – heed that advice, it is written there for a reason! I have since read that the paths can even be slippery when it hasn't rained or snowed due to loose dirt on the trails so hiking boots is always the very best and safest idea.
What we did to allow us to actually complete the amazing hikes in Bryce is hire trekking poles and crampons from Ruby's Inn. The crampons cost us $7 per day to hire. As you can purchase Crampons for not much more than this, I would highly recommend buying some and having them in your backpack in case you need them. They worked absolutely amazing!
I would also really recommend getting a camel pack. Getting bottles of water in and our backpacks was really quite annoying and we were quite envious of people sipping water from their camel packs. It is super important to keep really hydrated while doing the hikes in Bryce as there are a lot of uphills to climb. One of the biggest medical emergencies in the National Park is hydration issues so be a smart hiker.
If you feel the cold like I do, I would also recommend bringing some body warmers. I used these at sunset in the National Park when it got real chilly and they were a total lifesaver. You can also use these when stargazing. Bryce Canyon is one of the darkest national parks which make it absolutely perfect for stargazing!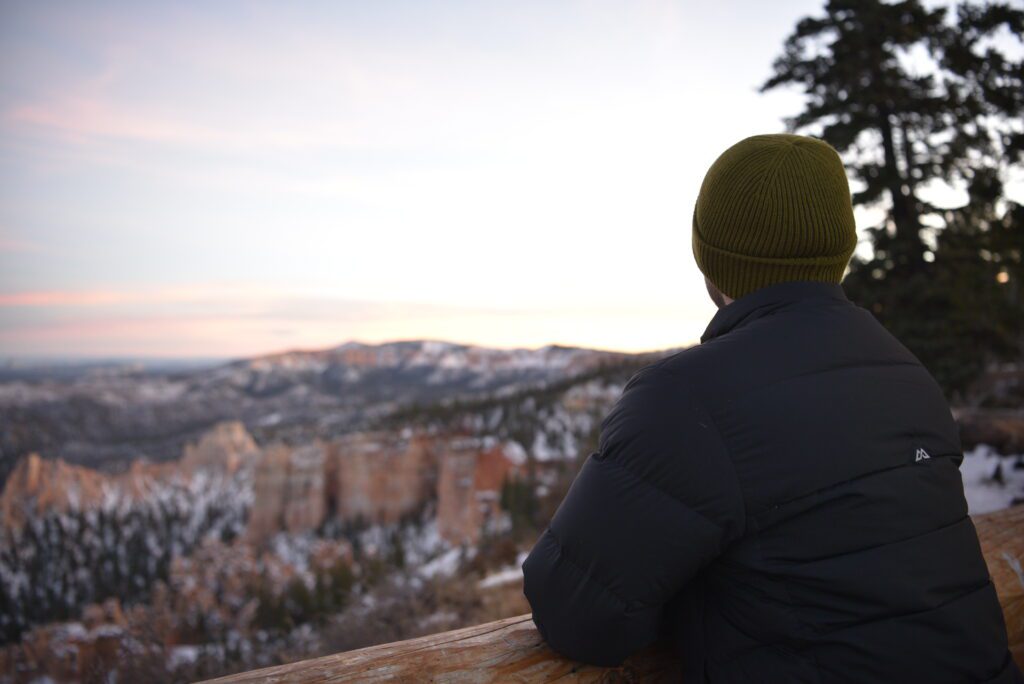 Bryce Canyon Services in November
The National Park is open 24 hours a day. You can check the Bryce Canyon website for opening hours and seasonal exceptions before you visit. Occasionally, the park is closed and when this happens it will be updated on their website. Roads may be closed temporarily if there is a snow storm in November for ploughing which you can also find on their website.
If you are planning on relying on the free park shuttle, November is not a good time to visit Bryce Canyon as the shuttle is not running in November (it runs April – October each year). The shuttle mainly runs as parking in the canyon is limited. However, as a general rule, you won't have trouble parking in November so the lack of shuttle was not really a problem. In fact, I thought it was nice to be able to drive everywhere and park rather ourself than line up for a shuttle (also HELLO COVID!)
Despite the shuttle not running, the visitor centre is still open in November although it is operating on winter hours (November 6 – March 14) of 8am – 4.30pm.
As a general rule you can buy a Bryce Canyon pass at the gate until around 5pm in November. We drove in around this time and the rangers had already gone home for the day. We enquired at the visitor centre if we could buy our America the Beautiful pass there and we could not. So, we drove around that night for free and bought our pass the next day.
What is closed in Bryce Canyon in November?
Visiting in November is the off season. This means some things will be closed. There were a few restaurants and activities that were closed that we were disappointed about which I will mention below.
Of course, there are a lot of benefits of traveling in November (less crowds, lower prices, great hiking weather) but traveling in this time comes with the disadvantage that some things will be closed.
Accommodation and Campgrounds Closures
There are lots of great places to stay near Bryce Canyon and most of these will be open in November.
There are however some which will be closed for the season. It is most likely that the Lodge at Bryce Canyon will be closed in November, the only lodging located directly in the National Park. We preferred staying at the more comfortable Best Western Plus Bryce Canyon Grand Hotel in Bryce Canyon City (directly before the park's entrance) in any event so this was not a big disadvantage to us.
There are 2 campgrounds in Bryce. The North Campground is open year round. From October 16th onwards, you don't have to make a reservation as it is booked on a first come first served basis.
The Sunset campground is closed from October 31. Both campgrounds were actually closed when we visited so make sure you check their website in advance if you intend to camp. I think tent camping would be far too chilly from October onwards!
Restaurant and Activity Closures in November
As the "Bryce Season" is over by the end of October, some restaurants and cafes will be also be closed in November which is a bit of a shame. If they are not closed, it is likely that they will have slightly reduced hours of trade.
We were disappointed we could not visit Ebenezer's Barn and Country Show which puts on a great country show while you eat dinner (this finishes in October).
There are still plenty of restaurants still open in November. The Cowboy's Buffet and Steak Room and the Canyon Diner, attached to Ruby's Inn in Bryce Canyon City was still open for example so you won't go hungry! The General Store and gift store in Ruby's was also still open (where you can buy groceries). Most amenities at Ruby's were open in November although I did notice the old Western photos was closed for the season.
There is a great and very affordable BBQ restaurant in nearby Tropic (10 minutes drive from Bryce) which is still open in November called I.D.K BBQ which we would recommend, although we were sad to find that they were no longer serving ribs in November as they are a seasonal offering. They replace ribs with turkey which we weren't as excited about.
Most restaurants in Tropic were open with the exception of the very popular coffee shop in Tropic – Bryce Canyon Coffee which was closed for the season. We were pretty bummed about this as there are hardly any cafes to buy coffee in the Bryce Canyon area (no Starbucks!) so one being shut is a big deal. We managed to find a small drive through coffee house open in Panguitch called Wanderlust Cowgirl Coffee if you are desperate for good coffee in November with very friendly staff. They can make any coffee you want including our favorite the oat latte!
There is also a cool rodeo that runs in Bryce Canyon City from Wednesday – Saturday between May and August which isn't running in November. We were totally bummed about this as it was located right next to our hotel – Best Western Plus Bryce Canyon Grand Hotel and it looked really fun!
So, as you can see there will be some facilities closed in November. You really need to weigh up how important they are to you. The crowds will be far greater in the high season so less crowds is a big drawcard of traveling to Bryce Canyon in November.
Are Bryce Canyon Hikes Closed in November?
As a general rule, most hikes will be open in November and available to hike. If you check the National Park website in advance you will know what hikes (if any) are shut.
During our visit in November only the Wall Street side of Navajo Loop was closed for the season. This closes each year once precipitation and freezing overnight temperatures combine and increase the risk of rockfall in this area. So, the Wall Street side of Navajo Loop may or may not be closed during your visit in November, depending how cold temperatures have reached.
The Two Bridges side of Navajo Loop remains open year-round so you don't have to worry that no hikes will be open!
If it has snowed during or before your trip, we would highly highly recommend wearing Crampons in addition to hiking shoes. They helped us so much and totally stopped us sliding all over the place!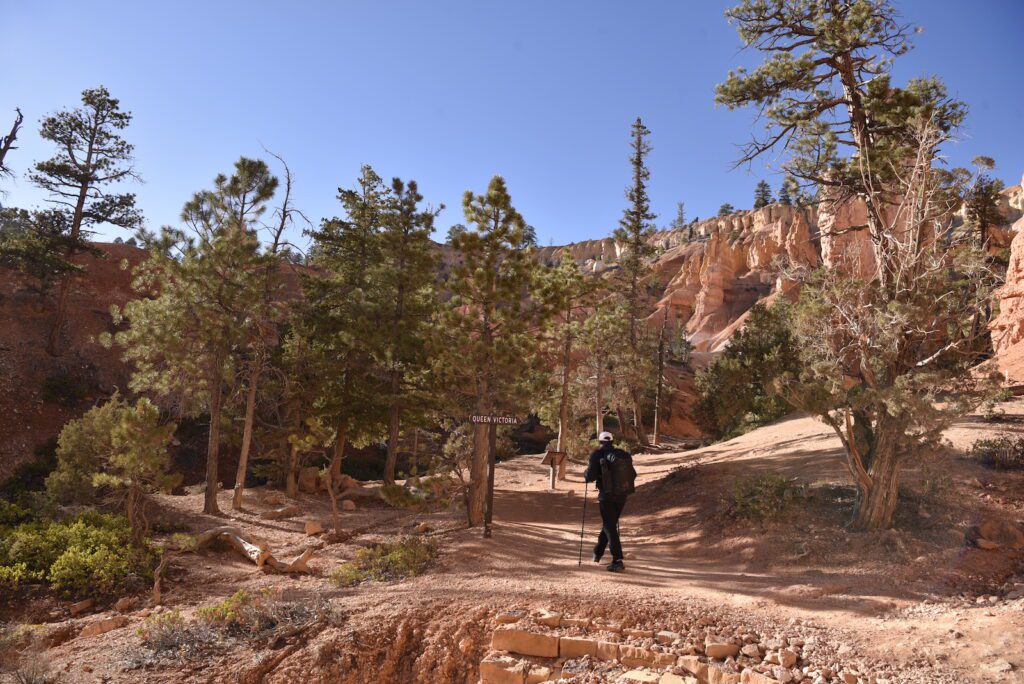 Things to do in Bryce Canyon in November
There are still tonnes of things to do in Bryce Canyon in November, in fact more than we thought!
We expected more trails would be closed and this wasn't true, in fact most are open, as we said above, only the Wall Street side of Navajo Loop was closed, which is a really small section of the park and in my opinion won't detract from your visit.
Bryce Canyon Hiking in November
Bryce Canyon has some seriously good hiking and as we have said previously 95% of the hikes are usually available in November.
There are hikes in Bryce Canyon for both beginner and advanced hikers. Our personal favorites are the hikes that go below the rim of the canyon as you get to see the famous Bryce hoodoos (vertical rock formations) up close and personal. Remember that everything that goes down must come back up so if you do complete one of the hikes into the canyon be prepared to hike back up which is reasonably strenuous.
I would call us reasonably fit and active without being athletes or everyday hikers and we could complete the hikes into the rim without too much difficulty!
As we have mentioned earlier, it is important when doing the hikes to wear proper hiking boots and drink lots of water (1 liter for every 2-3 hours of hiking) as per National Park guidelines.
Here are some of the hikes to try in November in Bryce:
Navajo/Queen's Garden trail Loop (Moderate difficulty into the Rim of the Canyon)
This in our opinion is the best hike in Bryce Canyon, without doubt. It is one of the best hikes we have ever done, the scenery is magnificent everywhere you look and you get a chance to get up close and personal with Bryce's famous hoodoos including Thor's Hammer.
The hike takes about 3 – 4 hours to complete and was moderately difficult just because you have to hike back out of the canyon.
The Navajo trail can normally be completed as a loop when Wall Street is open which makes it a slightly shorter hike however, in November there is a good chance the Wall Street section of the loop will be shut which means you can only make a loop by adding the Queen's garden trail into the mix. I would suggest doing the Queens Garden trail in any event so making it into a loop seems to make sense to me.
You could alternatively just do the Navajo trail without a loop (in and out of the canyon) or the Queens Garden trail (in and out of the canyon).
There is a lot of debate about which trail to start with to make the hike easier. Here's the 411 on that. It is easier if you start with the Queens Garden trail from Sunrise point and end with the Navajo trail hiking up to Sunset point.
You will have a steeper incline right at the end if you do the hike in this direction but you will be going uphill for less of the journey, which seems better to me.
If you want to do the hike in this direction, from the carpark at Sunset you will need to walk 0.5 miles to the start of the Queens Garden trail at Sunset point. As your car will be parked at Sunset, you will have to do this 0.5 mile walk either at the start or end of your hike. Also, you will be less exhausted at the start of your hike so doing it at the start also makes sense.
Peekaboo/Navajo/Queen's Garden trail Loop (Moderate difficulty into the Rim of the Canyon)
If you want to make the above even harder or longer, you can add the peekaboo trail into the mix which will add an extra 2 hours to your hiking, so a total of 5 hours of hiking.
Mossy Cave Trail or Bristlecone Loop (Easy Hike not into the Rim of the Canyon)
If you are looking for an easy hike, with not a lot of uphill, we would suggest either the Mossy Cave Trail or the Bristlecone Loop which only take about 1 hour each to complete.
The Mossy Cave Trail was a nice hike but I think November isn't the best time to complete this trail because the water in the stream is dried up in November and the cave does not have any icicles in it, which is cool to see.
There is still some pretty impressive scenery to check however (see picture below), so we would still recommend doing the hike in November, especially if you have opted out of the Navajo/Queen's Garden trail Loop.
Bristlecone Loop is another easy hike you can do, which is more backcountry hiking, with limited views of the hoodoos. We found this walk really fun in November as during the time we visited, it was filled with snow so it was fun walking through it and having a snowball fight. If you are looking for snow with kids in November, Bristlecone Loop is a good place to find it.
Hike the Bryce Canyon Rim (Easy Hike not into the Rim of the Canyon)
Another really fun easy hike you can do is hiking the Bryce Canyon rim, which provides you with a stunning view of the hoodoos below. One of the best places to do this is the walk between Sunset and Sunrise point, each way is 0.5 miles so if you do both ways to and from the Sunset car park your walk will be about 1 mile long.
Another nice place you can hike the Bryce Canyon rim is between Inspiration Point and Bryce Point which is around 1 mile each way (2 miles there and back).
Bryce Canyon Scenic Drive in November
Another of the best things to do in November in Bryce Canyon is to take the scenic drive from the start of the park to the end at Rainbow Point, stopping at many of the best view-points and overlooks of the park along the way.
The nice part about taking a scenic drive is that you can mostly stay in the heated comfort of your car, only getting out briefly to make quick photo stops along the way. The best time in my opinion to make the drive is just before sunset, so you can catch the sun setting as you drive along and at the viewpoints.
There are many overlooks to stop at in the Bryce Canyon Scenic Drive with my favorites being Sunrise and Sunset, Inspiration Point, Natural Bridge and Bryce Point. My personal highlight being Inspiration Point.
Photography
Bryce Canyon is a fantastic place for photography. If you are looking to up your photography game, Bryce is a great place to do it.
Everywhere you look there is something stunning to photograph.
Here is what we use for National Park photography (our exact gear):
Sadly, droning is not allowed in the National Park and you can get in big trouble if you are caught droning. We did see one guy using his drone late in the afternoon one day but we personally wouldn't do it.
We recently invested in a really good tripod and camera bag. I was a bit apprehensive to spend so much on these things but our investment has really paid off as both have been awesome. I suppose the old saying you get what you pay for rings true.
Stargazing in November
Bryce Canyon National Park is one of the best places in the United States for stargazing because it is one of the country's darkest national parks.
It wasn't that great for stargazing while we were there because it was a full moon which lit up the sky (but the moon in itself looked amazing!) On a moonless night, you can see over 7000 stars!
Is November the best time to visit Bryce Canyon?
Yes and no. As we have established some restaurants and cafes will will be closed including potentially the Wall Street side of Navajo Loop (which is really beautiful).
On the plus side, there are waayyyy less crowds (including on the trails) which is really nice, the weather is beautiful during the day and hotel prices are cheaper. So overall, I would say it is a pretty great time to explore the National Park!
****
See more Utah fun: