Looking for a great Zion National Park Itinerary? You have come to the right place. In this guide we will detail how to spend 1-4 Days in one of the best Utah National Parks
Zion National Park is an outdoor lover's paradise and one of the unmissable places to visit in the United States. Utah's first national park is known globally for its majestic sandstone cliffs and canyons, and more than five million annual visitors travel to see the park's bedazzling beauty each year.
With so much to unpack, deciding how to execute your Zion journey can be challenging. This itinerary for Zion National Park gives you all the necessary information- including tips, activities, and nearby attractions- to spend an unforgettable 1-4 days in the park.
Quick Four Day Zion National Park Itinerary
If you want a quick answer, here is our planned route for 4 days in Zion National Park.
Day One:
Hike Angels Landing trail

Enjoy lunch at Zion Lodge

Stroll the Pa'rus Trail for sunset
Day Two:
Brave The Narrows

Drive the scenic Zion-Mt. Carmel Highway

Hike to the Zion Canyon Overlook

Spend the evening exploring Springdale
Day Three
Hike to Observation Point's million-dollar viewpoint

Learn about the park at the Zion History Museum

Marvel at a sunset from the Watchman Trail
Day Four:
Take the canyon scenic drive to Kolob Canyon

Hike to the Middle Taylor Creek Fork Trail's alcove

Catch a sunset at Kolob Viewpoint
When to Visit Zion National Park
Zion National Park is open 24/7, 365 days a year, and each season offers its perks to visitors.
Spring
Spring is the season of new life in Zion. Days grow longer, temperatures get warmer, and wildflowers sprout across the canyon floor. Snow melts from higher elevations, and the Virgin River rises.
Because of this, many trails have restricted access until May. Temperatures can vary greatly this time of year, so packing plenty of layers will ensure you're ready for whatever Mother Nature has in store.
Summer
Summer is synonymous with the peak tourist season at Zion. It's also when temperatures routinely soar into the triple digits. For both reasons, starting the day early before the heat and crowds roll in will drastically enhance your overall experience. Summertime is also monsoon season, which can impact safety, especially when hiking The Narrows.
If water levels rise too quickly or the forecast calls for heavy rain, the park may decide to shut down the trail until conditions improve.
Fall
Fall is arguably the best time of year to visit Zion. Temperatures become more mild, and you can feel a crispness in the air. Peak visitation also winds down, making trails and the entire park easier to navigate.
If you time your visit around mid-October, you'll also witness bright reds and golds descending into the canyon.
Winter
Winter is the quietest season at Zion, and activity options are limited. Nearly half of the park's annual precipitation occurs over the winter months, and it's not uncommon for snow and ice to impact trail conditions.
You'll also need to rely on self-transportation throughout the park, as the Zion canyon shuttle shuts down for the winter. Despite those factors, there is an unmistakable sense of solitude during the winter in Zion, and the contrast of snow with Zion's red and orange cliffs is a sight to behold.
Our recommendation should mostly work for a Zion National Park winter itinerary however, some trails may get closed by rangers due to snowfall.
How Many Days Do You Need in Zion?
Three days is an optimal time length to spend at Zion National Park. That will give you adequate time to conquer all the popular activities you have your sights on while sprinkling a few shorter activities in between.
Extending your time at Zion to four days will allow you to explore less accessible areas like Kolob Canyon, The Narrows' northern wilderness, and the remote Subway trail.
Two days will allow you to experience the best of the park and conquer the biggest must-dos on your bucket list.
If you're limited to one day exploring the park, consider combining Angels Landing or The Narrows with a scenic drive on the Zion Mount Carmel Highway, or tackle a few moderate activities such as Scout's Landing and the Watchman trail.
One Day in Zion Itinerary
If you've got a single day to spend at the park, there's a good chance you'll want to conquer at least one of Zion's two bucket list hikes, Angels Landing or The Narrows.
It's always advisable to hit the trail early, but with twenty-four hours or less to explore, you'll want to get on the day's first shuttle if possible.
Angels Landing
Angels Landing makes the shortlist of the most popular trails in the U.S. thanks to its adrenaline-pumping stretch that requires hikers to traverse a narrow ridge high above the canyon floor. The 360-degree views from the "landing" are otherworldly and well worth the harrowing climb.
Because of the heavy hiker traffic, the park has implemented a lottery system that requires all hikers to acquire a permit to complete the entirety of the trail.
Hikers looking for similar views with a less intensive climb will want to consider Scout's Lookout, which launches from the same starting point. The views of Zion Canyon are just as memorable, and no permit is required to access this section of the trail.
The total distance: 5.4 miles
Difficulty: Strenuous
Angel's Landing Hike Length: 3 to 5 hours
Best time to hike: November and May to miss peak times, but it's open year round
Angel's Landing Elevation: 1,500 feet
The Narrows
The Narrows provides an entirely different experience to Angels Landing, but one that fills adventurers with a similar sense of pride once they've conquered it.
Hikers stay dry on the trail's first mile before it leads them into the always-chilly Virgin River. The hike totals 16 miles total and gets increasingly dramatic the further you go.
Rock carvings, cascading falls, and narrowing stretches of canyon are all part of The Narrows experience. Because trekking through the water can get exhausting, many trail-goers head back once they reach Wall Street, a canyon section roughly two miles in.
The morning is the best time to hike the Narrows to avoid crowds which arrive from 9 – 10am. By late afternoon people start leaving too, so you may enjoy a quieter walk.
The downside of hiking the Narrows in early morning / late afternoon – it gets shaded by the high rock face and becomes much colder than in the middle of the day when the sun is directly above. On the other hand, the middle hours of the day is also the best time for photography as the sun overhead will illuminate the rich red stone walls.
The total distance: 16 miles (most people hike 1 – 2 miles)
Difficulty: Moderate – Hard
Hike Length: 1 hour – 2 days
Best time to hike: Warmer months due to being in the water
Difficulty: Moderate – Hard
Lunch at Zion Lodge
After expending so much energy, you'll need to refuel. Visitors can pop into the Zion Lodge for a hot lunch or enjoy a self-packed meal at the lodge's picnic area.
Overachievers may want to consider a short hike to any of the three Emerald Pools nearby to enjoy their lunch amid serene beauty. The lower emerald pools are one of the most beautiful spots in the National Park.
Zion Sunset at Pa'rus Trail
Located in the south region of the park, the Pa'rus Trail is a lovely evening setting that meanders along the banks of the Virgin River.
Among the hike's features are several bridge crossings, vibrant wildflowers, and deer sighting opportunities galore. Take the trail north to reach Canyon Junction Bridge, a favorite sunset spot for photographers.
Zion National Park itinerary 2 days
A second full day in the park will allow you to tackle whichever of Zion's top two hikes you have yet to conquer. Two days in Zion is a nice amount of time as you can tick off some of the "must dos" in the park.
Zion-Mt. Carmel Highway
Once you have checked the second half of Angels Landing and The Narrows off your list, the Zion-Mt. Carmel Highway is an enjoyable and much less strenuous way to spend your afternoon. The drive east out of Zion Valley will take you through the 1.1-mile Zion-Mt. Carmel Tunnel, which adds an extra thrill to the drive.
On the other side, a distinguished landscape is there to greet you. The road winds between gorgeous red and white sandstone domes with pine trees dotting the landscape. As you retrace the drive back, you'll notice several natural features like Bridge Mountain and the East Temple towering high above you.
Canyon Overlook Trail
Before heading back through the tunnel, stop at the Canyon Overlook Trail and make the half-mile climb to get dazzling views of Zion Valley. This hike presents the best reward-to-effort ratio in the park and is suitable for all ages.
An Evening in Springdale
Spend the rest of the evening exploring the lovely town of Springdale, located just outside the park's south entrance.
The quaint outdoor haven is full of charm, and you'll find great restaurants, ice cream shops, souvenir stores, a brewery, and more.
Zion National Park itinerary 3 days
A third day in Zion gives you enough flexibility to go in several directions with your itinerary, but Observation Point is well worth prioritizing.
Observation Point
Observation Point's million-dollar views are considered by many to be the best in the park.
Due to fallen rock, the expansive views require more effort to reach than in previous years, as the original trailhead is no longer accessible. The best way to access the trail is to exit the east entrance of the park and head to Zion Ponderosa Ranch Resort, where the resort offers shuttle rides for a small fee.
The 7-mile trail winds hikers through a lovely Ponderosa pine forest before leading to 360-degree views worthy of a postcard.
Zion History Museum:
After completing another incredible hike, learn more about the park at the Zion History Museum.
The museum offers various exhibits throughout the year, and there is plenty of information to digest related to the park's wildlife, geology, and history.
Watchman Trail:
If you still have the stamina for another hike, take the moderate route up the Watchman Trail for another remarkable Zion sunset. One of the best easy trails in Zion National Park.
The three-mile trail gifts hikers with a bird's eye view of Springdale and the Zion Valley, and it's also a popular location for spotting bighorn sheep.
Zion National Park Itinerary 4 days
If you have four days in Zion, this is what we would suggest:
Kolob Canyon
While prioritizing Kolob Canyon over other activities is hard to justify if you've got a day or two at Zion, it's worth the journey if your itinerary is three to four days long.
The remote section of the park offers a nice break from the worst of the Zion crowds, and Kolob Canyon's unique and peaceful setting is a welcomed contrast to activities in Zion Valley.
As you enter, you'll find green rolling mountains that give way to remarkable crimson-red box canyons. Enjoy the awe-inspiring views from the many pull-offs along the district's winding road.
Hiking Kolob Canyon:
The Middle Taylor Creek Fork is arguably the most popular trail route in the area. The trail totals five miles roundtrip and winds along the creek before leading hikers to a photogenic alcove featuring two arches carved into the rock.
Once you're back on the road, finish the drive that ends at Kolob Viewpoint, a stunning setting to take in the colorful canyons.
Those up for more adventure will want to take the short Timber Creek Overlook Trail for an even better vantage point from the top of a ridge. Time your day right to witness another breathtaking sunset that lights up the canyon with fiery shades of red and orange.
Where To Stay Near Zion:
There are lots of good places to stay near Zion National Park. If you are willing to drive a bit for cheap lodging, St George hotels are a good option. Otherwise, here are some of the top picks for Zion National Park accommodation:
Zion Lodge: Located in the heart of Zion Valley, the Zion Lodge is in high demand, and you'll need to make your reservation months in advance.
Watchman Campground and South Campground: The park's two primary camping options, Watchman Campground and South Campground, offer stunning views and convenient access to park amenities.
Lodging in Springdale: Lodging in Springdale can be pricey, but it's convenient for exploring the park, with the shuttle stop every few blocks and plenty of shops and eateries to explore. See here for the best prices within your dates.
Beyond Springdale: If you're looking to trade convenience for affordability, Zion Resort RV Resort and Campground is a well-rated option, and there are other hotels, including the Fairfield Inn and Suites by Marriott Virgin Zion National Park, within 15 miles of the park's southern boundary.
Where to Eat Near Zion:
Zion Canyon Brewery is the preferred local beer spot, with burgers and pub fare to pair with an ice-cold draft.
Feel Love Coffee is the ideal AM stop for coffee and a pastry before hopping on the shuttle.
Whiptail Grill serves up healthy portions of quality Mexican food.
Camp Outpost makes a fantastic post-hiking establishment, serving sandwiches, meat plates, and salads.
Deep Creek Coffee Company is another solid morning option that serves all your breakfast essentials plus delicious smoothies.
King's Landing Bistro is an upscale establishment serving classic American fare, tasty cocktails, and decadent desserts.
Oscar's Cafe is a delightful, three-meal restaurant serving omelets, burritos, burgers, and more.
Getting Around the Park:
State Route 9: State Route 9, which connects the east and south entrances of the park, is accessible year-round. Activities along the eastern portion, known as the Zion-Carmel Mountain Highway, can only be reached by car. The drive is breathtaking and an absolute must if your trip is longer than two days.
Kolob Canyon: Kolob Canyon requires a 40-mile one-way drive outside the park. The easiest route is to exit the park's south entrance, then head west on SR-9 before taking I-15 north the rest of the way.
Zion Canyon: Zion Canyon prohibits vehicle access most of the year unless you're staying at the Zion Lodge, so the shuttle system is the primary means of accessing the canyon's can't-miss points from March to November. Vehicles can access Zion Canyon from December to February when the shuttle is shuddered for the season.
The Shuttle System: The shuttle consists of two separate lines: the Springdale Line and the Zion Canyon Line.
The Springdale Line consists of nine different stops accessed from various points throughout Springdale. The shuttle transports park-goers to the bike and pedestrian entrance, where they will show their pass or pay the park entrance fee.
The Zion Canyon Line is just steps away from the Springdale drop-off point and ushers visitors into the heart of Zion Canyon. Nine pick-up and drop-off points give park-goers convenient access to the canyon's most popular activities.
How To Get To Zion National Park:
Closest Airports: Henry Reid International Airport in Las Vegas is the closest (170 miles) major airport for those heading to Utah by plane. Salt Lake City International Airport (300 miles) is the next best option.
Utah Road Trip Proximity: If Zion is part of your road trip itinerary, nearby popular destinations include Saint George, Utah (40 miles); Page, Arizona (118 miles); Bryce Canyon National Park (86 miles); and the Grand Canyon North Rim (125 miles).
Entering the Park: There are three primary entrances to the park. The northwest entrance, Kolob Canyon, is located off of I-15 and does not connect to the rest of the park by road. This small section is bursting with beauty, but its isolated location makes it the least-visited region of the park.
The east and south entrances connect visitors to Zion Canyon, where many popular activities like Angels Landing and The Narrows are.
The east entrance begins at the Mt. Carmel Highway junction, where U.S. Route 89 and State Route 9 meet. The south entrance runs into the idyllic town of Springdale and is located directly off State Route 9.
Know Before You Go:
Hikers can apply for an Angels Landing permit on

recreation.gov

. A seasonal lottery occurs four times a year, and the park holds a "day-before" lottery during peak seasons.

If you're bringing a vehicle into the park, a national park pass costs $35 for seven days, or you can purchase an $80 annual pass that will grant you access to every national park for a year from the date of purchase. If you are entering by bike or on foot, you can purchase a $20 pass that is good for one week.

Visitors who have served in the military or have a permanent disability receive free entrance to the park. Seniors can purchase a pass at a discounted rate.

You can access the shuttle schedule at the National Park service here.
You can access current weather and trail conditions here.
Pets have limited access to the park. You'll find all the park's pet-related information here.
Find out more about the Zion-Mt. Carmel Tunnel and its travel requirements here.
The visitor center is also a good source of information while you are there.
Zion National Park Road Trip Ideas:
Zion National Park is located near several other notable landscapes and destinations, making it an easy add-on to other road trips.
Bryce Canyon is an ideal park to pair with Zion, as they're situated less than one hundred miles apart. Saint George is only forty miles away and offers a picturesque urban landscape with plenty of outdoor exploration opportunities.
If you've got a week or more, consider checking all of Utah's Mighty Five national parks off your list. All five parks are within a day's drive of one another, and you'll experience more diverse beauty than you can imagine. For a city/nature trip combination, consider spending a couple of nights in Las Vegas before discovering the beauty of Zion three hours away.
What to Bring On Your Trip To Zion:
There are a handful of items you'll want to include when packing for Zion National Park.
Daypack/Dry pack: If you plan on hiking in the park, you'll want to keep a daypack on hand for all your essentials. Additionally, hiking The Narrows will require a dry pack to keep your belongings water-free.
Water Bottle: There may not be a more important item on this list than a refillable water bottle. Staying hydrated in the park is a must, and water stations throughout the park will make it easy to refill when you're running low.
Hiking Boots: Many of Zion's trails require quality footwear, so bring hiking boots that provide plenty of grip and ankle support.
Sun Protection: If you've ever visited Utah, you know the sun's intensity can be overbearing. Many of Zion's hikes have a ton of sun exposure, so you'll want to pack protective clothing, headwear, and sunglasses and keep a bottle of sunscreen on hand.
Layers: Weather can be unpredictable at Zion, especially during spring and fall. Keep a few different layers on hand to ensure you're ready to handle whatever elements Mother Nature throws your way.
Hiking Poles: A hiking pole is an underrated tool for many of Zion's hikes and an essential when navigating The Narrows. Finding your footing in the river is challenging regardless of experience or skill level.
Other Narrows Gear: Consider a pair of wool or neoprene socks and quick-dry clothing such as Polyester or spandex to keep your body warm while trekking the Narrows. Water shoes are also essential. There are many accessible shops and outfitters in Springdale that will provide you with all the gear you could need for your Narrows adventure.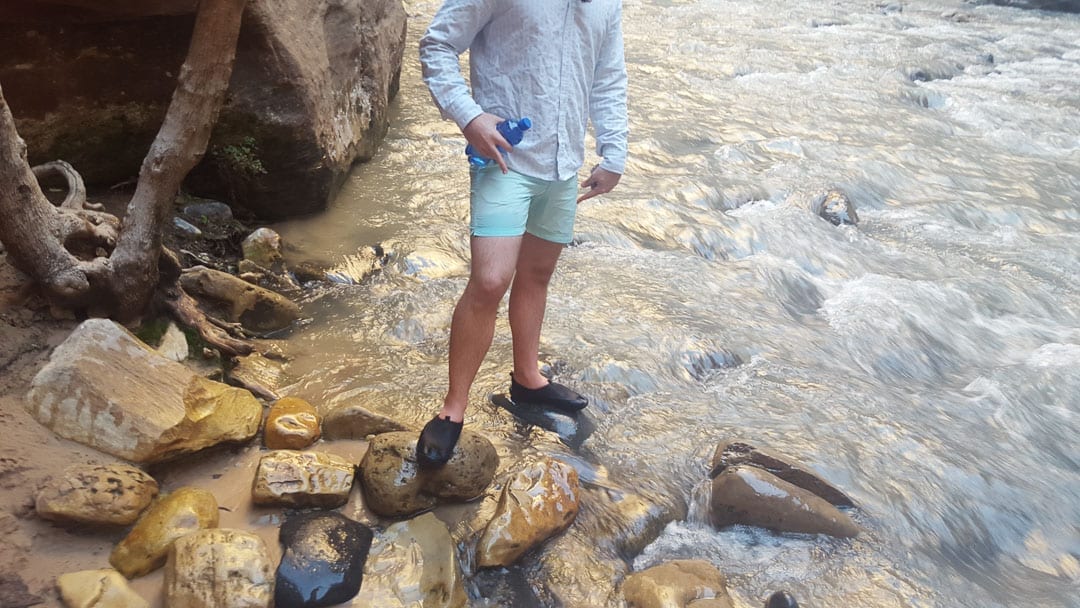 ***
See more: